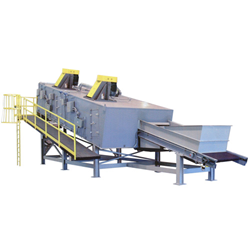 Chattanooga, TN (PRWEB) March 05, 2014
Davron Technologies, Inc. designed and manufactured the DTI-244, an electrically heated continuous conveyor oven. The oven preheats and dries scrap magnesium before it enters the melting furnace at the customer's facility. Because of the arrangement of the production line, the DTI-244 continuous conveyor oven is set on a structural steel I-beam frame. This allows product to travel through the oven at a 30ᴼ incline. Product exits the oven and is discharged onto the melting furnace's conveyor at an elevation of 14 feet. With a 15-minute cycle, the DTI-244 processes 8,500 pounds of scrap per hour.
Featuring two individual zones of control, the custom oven can be programmed to operate between 350ᴼ and 575ᴼF. Equipped with Silicon Controlled Rectifiers (SCRs), the two individual zones of control automatically adjust voltage to maintain the desired temperature in each zone with minimal energy expenditure. A PLC controls the entire system. The conveying system utilizes a flat wire belt and a variable frequency drive (VFD) for speed adjustment. Airflow within the heated chamber travels in a vertical top-down pattern.
The useable dimensions of the heated chamber are 5'0" wide x 1'0" high x 30'-0" long. The interior of the oven is made out of 16-gauge aluminized steel backed by six inches of eight-pound density mineral wool insulation. The exterior is constructed of 16-gauge carbon steel backed by a structural steel frame and finished with high-temperature paint. The oven includes three doors that provide access to the heated chamber for maintenance. The DTI-244 also features a platform with a handrail and a caged ladder for safety.
Davron designed the DTI-244 continuous conveyor oven based on three criteria provided by the customer: the production rate per hour, the process time, and the exit height of the oven conveying system. At Davron's recommendation, the customer incorporated the two zones of temperature control to achieve the desired process. Once the continuous conveyor oven was manufactured, Davron did acceptance testing and training with the customer at Davron headquarters in Chattanooga, Tenn., prior to shipment.
Visit http://www.davrontech.com for more information about Davron's continuous conveyor oven capabilities. Or, if you'd like to discuss your own industrial oven project, please call Davron's Vice President, Jimmy Evans, at (888) 263-2673, or fill out Davron's online spec submission form.
About Davron Technologies, Inc.
Davron Technologies, Inc. custom fabricates industrial ovens, providing turnkey design and system integration services to develop thermal processing solutions. Davron is a total industrial oven manufacturer, creating custom industrial ovens and precision process equipment for every industry that requires thermal processing. Each Davron industrial oven is custom built according to customers' unique specifications. As the Provider of Industrial Oven Solutions, Davron offers one of the largest selections of in-house and on-site industrial oven services in the world.
###