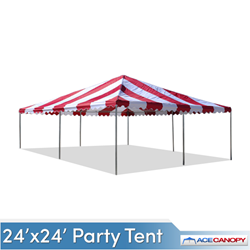 Palmdale, CA (PRWEB) March 04, 2014
As the economy improves, so does party rental companies. One thing that has stayed with the companies that have thrived are the ethics of saving and budgeting during hard times. Leading US canopy and tent supplier Ace Canopy has worked closely with party rental companies film production companies and has created a new line of party tents that are more simple in design an economical for to buy as appose to rent. Other mom-and-pop vendors that sell party tents have also found it advantageous to offer an economical solution for party tents for customers looking to own rather than rent. One company, "Van Nuys Tent and Awning said, "We always wanted to offer party tents as part as our catalog, but traditionally, they have been very expensive. Ace Canopy's new party tent is designed like the commercial grade, but yet more economical."
Some of the key components for the new design were to create a poly oxford top as opposed to the heavy and traditional vinyl party tent top. The galvanized steel poles and connectors are also more simplified, which means less parts and ultimately less cost.
Ace Canopy CEO and founder Michael Stein said, "The plan was simple, we just needed to find a material that was less expensive, but just is heavy-duty as vinyl and simplify the structure a little bit on traditional party tents in order to make everything more economical."
The party tents are normally used by party tent rental companies, fleamarket vendors, swap meet organizers, caterers and film production companies. Many production companies and studios have already purchased the party tents in large quantities and have found that they have been resilient to long-term and heavy-duty use. Stein says the company plans to offer other heavy-duty structures with new designs that will enable lower costs and more efficient where.
For more information about the ace canopy party tent line, go to http://www.acecanopy.com or call 1-800-838-3057.