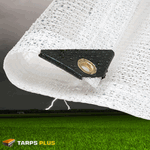 Palmdale, CA (PRWEB) March 05, 2014
Many agriculturists, botanists and backyard growers find challenges during winter due to the uncontrolled environment. Leading US tarp supplier Tarps Plus has designed a clear tarp to enable growers of all kinds to control their yield of crops with UV treated clear tarps that let sunlight in. The tarp is made of clear polyethylene plastic reinforced by nylon threading. The material lets the sunlight and but keeps moisture out. Grommets are built around the perimeter, which can be used to tie the material over structures.
Tarps Plus CEO and founder Michael Stein said, "Growers are constantly trying to figure out a way to control the environment that there yield of crops are in. These economical clear tarps give them the versatile option that they need."
The tarp company has just received a 40 foot container of its latest version of the clear tarp material and has already been over inundated with orders from the likes of farmers, backyard enthusiasts and hobbyists. The company has also made structures with the clear tarps for gardens in large department stores such as Lowe's and nurseries around the country. The tarp canopy structures have proven very popular due to their cost effective structure.
Tarps Plus plans to offer a summer shade option in the spring of 2014 as well. This tarp structure will consist of a light duty tarps suspension kit that will hold mesh screen tarps above plants to limit sun exposure but still let in moisture and minimal sunlight. Stein says, the high demand for the agricultural related tarps are due to people choosing to grow their own food. Customers state that the economy as well as cleaner food is the motivation for growing fruits and vegetables in their own backyard, Stein said.
For more information about Clear Tarps for the Agricultural Industry, go to http://www.tarpsplus.com/clear-tarps.html or call 1-800-838-3057.