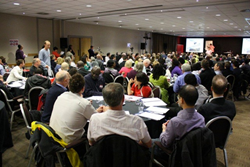 (PRWEB) March 06, 2014
The continuing upswing in UK home prices has resulted in a flood of properties coming onto the market, according to Rightmove, Britain's largest real estate website. At this time of market stimulation, property investment educator, Rick Otton, has revealed increased interest in his innovative strategies by investors seeking to get the most out of the market.
"It has been many years since the British property market has been as healthy as it is right now," said Mr Otton. "There are many contributing factors, but the bottom line is that sellers are showing confidence in the market by putting properties on the market that they have been holding onto for some time."
"In the last 12 months there has been an increase of 18 percent in the number of properties being listed for sale, but, perhaps more importantly, properties on the Rightmove website are being sold at a corresponding rate."
Mr Otton, Director of We Buy Houses Pty Ltd, is a self-made millionaire and property investor. He is known internationally for his innovative real estate investment strategies, believes that there are very real opportunities in this market for investors wanting to grow their property portfolios.
"Investors, and aspiring investors, particularly those who are constrained by bank lending limits and regulations, are becoming aware that there are other ways to create a positive income flow from real estate. It's not all about bank loans - and once they realise this, then they are perfectly poised to buy and sell property, regardless of the economic environment of the day," said Mr Otton.
To help Britons gain an insight into these alternative real estate investing techniques, Mr Otton has made available, at no charge, a Power Property Profits Pack - a free download from RickOtton.co.uk/freepack.
"The interest in this complimentary download in the last few months has been overwhelming, and has shown me that people are willing to break away from the way the banks want us to buy property, and to embrace new and proven strategies instead," he said.
For many years Mr Otton has been teaching everyday people in the UK and Australia, regardless of their financial situation, how to make money in real estate - including upfront, during, and at the backend of transactions.
"One of my techniques shows how buyers and sellers can negotiate sale terms. Sometimes the investor may be just the middleman who facilitates the transactions," said Mr Otton. "In other cases investors will hold onto properties, rent them at a profit, and then, if they choose, wait for the right buyer, at the right time, to come along - and collect a healthy lump sum at that time.
My strategies are proven, and there are hundreds of investors in the UK using them right now."
Mr Otton is also hosting a 3 day real estate investing bootcamp in a little over 2 weeks time, in Maidenhead. More information on the event, which runs from 21-23 March, is available at http://www.RickOtton.co.uk/conference. Phone enquiries can be made in the UK, on 0207 000 1027.
About Rick Otton
Rick Otton is a property investment professional who, over the last 23 years, has introduced innovative real estate strategies to the UK, Australian and the United States. His creative 'low-risk, high-reward' approach to buying and selling houses is exemplified in his own business, We Buy Houses.
This year marks the 10 year anniversary of Mr Otton introducing his strategies to the UK, and the 5 year anniversary of his innovative 'Buy A House For A Pound' process – one that attempted to be emulated by others. His constant process of strategy refinement, and adapting to the ever-changing real estate market, continues to place him at the forefront of property investment education.
In 2012 Rick Otton published his Australian book 'How To Buy A House For A Dollar' which was named in the list of Top 10 Most Popular Finance Titles for 2013. A UK version is on the drawing board for publication in 2014.
Mr Otton freely shares insights into his non-bank-loan strategies that have allowed everyday UK men and women to beat the rental cycle and have their own homes. He coaches others on how to build profitable businesses by facilitating transactions that focus on the needs of potential buyers and motivated sellers.
Access his free downloadable Power Property Profits Pack at RickOtton.co.uk, and the details of early bird pricing for his next UK 3-day real estate training conference in March 2014. Phone enquiries in the UK are welcome on 0207 000 1027.