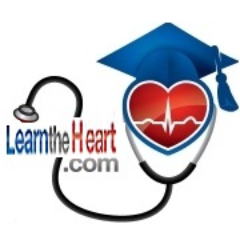 Naperville, IL (PRWEB) March 07, 2014
LearnTheHeart.com a free online cardiology and ECG education website, announced the launch of a new blog. Cardiology and ECG cases as well as educational cardiology topics are being presented and discussed.
LearnTheHeart.com was founded in 2003 and has grown to more than 5000 pages with thousands of users daily. The founder and main author Dr. Steven Lome, an academically trained cardiologist says, "I first founded LearnTheHeart.com in 2003 as a 4th year medical student to help organize my ECG collection and my notes that I had taken about cardiovascular disorders during my medical training. As I progressed through my training, I used the website to access the information and teach students. I use an evidence based approach to learning which I feel is important. I truly have a passion for teaching ECG interpretation and cardiology. I hope this new blog will allow me to share my experiences and interact more with my readers."
Active on social media, LearnTheHeart.com (Twitter handle @LearnTheHeart) has gained more than 2500 followers in 2 months while Tweeting cardiology and ECG facts. New games and interactive media for cardiology learning are actively being developed.
LearnTheHeart.com acts essentially as a free onterpretatioline cardiology and ECG textbook with the added feature of more than 1000 review questions, quizzes, references and interactive games to enhance learning. The ECG quiz section remains a popular resource for students learning ECG inn. Dr. Lome can be contacted directly through the website making LearnTheHeart.com a nice way for students to interact directly with the author to ask questions about challenging topics.