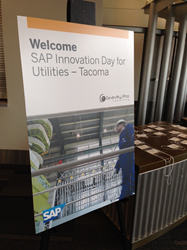 Knowledge drives innovation which leads to an increase in productivity and growth for a company
San Clemente, CA (PRWEB) March 06, 2014
Gravity Pro Consulting, an SAP Gold-level Partner, today announced a successful tour of SAP Innovation Day conferences that extended through the West Coast of the United States. The conferences focused on SAP software solutions for the utilities industry and took place in Tacoma, WA, Portland, OR and San Diego, CA during November.
Over 150 attendees from the utility industry participated in the SAP Innovation Days. At each conference, attendees were able to join their industry peers, SAP, and Gravity Pro Consulting to discuss how to leverage the SAP solution portfolio to modernize processes and prepare for future growth. Solution experts presented on subjects that included Customer Information Systems (CIS), Customer Relationship Management (CRM), Enterprise Asset Management (EAM), Cloud Technology, Mobility, SAP HANA and Design Thinking.
Gravity Pro Consulting has put a tremendous amount of focus and commitment towards the utilities industry and SAP. "Our goal was to create opportunities to bring together solution experts and IT professionals from various utilities to collaborate and discover new perspectives on how to solve their problems and enable their business objectives," said Gravity Pro founder and CEO Sylvana Coche. "Knowledge drives innovation which leads to an increase in productivity and growth for a company." Based on the success of the SAP Innovation Day conferences, Gravity Pro plans to extend this opportunity to companies in different industries and regions across the United States.
About Gravity Pro Consulting
Gravity Pro Consulting is an SAP Gold Partner and value-added reseller, specializing in helping organizations realize competitive advantages and organizational efficiencies through the power of SAP solutions. Gravity Pro has in-depth experience working with companies of all sizes and provides SAP software licensing, business process strategy, and full implementation services. This includes project management, project review and remediation, system upgrades and more. Gravity Pro holds the distinction of being North America's leading SAP reseller certified by the Women's Business Enterprise National Council (WBENC) and authorized to provide SAP solutions — including the newest cloud-based technologies Ariba™ and SuccessFactors™, SAP Mobile solutions, SAP HANA™ and SAP Business Objects. As a woman-owned company, Gravity Pro is certified for supplier diversity programs and can help companies meet goals for achieving strategic advantages with SAP solutions as well as support diversity spending objectives.
SAP, SAP HANA and all SAP logos are trademarks or registered trademarks of SAP AG in Germany and in several other countries all over the world. All other product and service names mentioned are the trademarks of their respective companies.