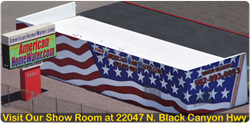 (PRWEB) March 05, 2014
American Home Water is the number one supplier for reverse osmosis systems in Phoenix, AZ. They are now offering full reverse osmosis and water softener systems installed for under $1,000. American Home Water has been a staple of the Phoenix area for more than 30 years making them the top water filtration company in the state by servicing more than 40,000 customers.
Other water companies will not give price quotes over the phone, while American Home Water believes in being upfront and honest with their customers. American Home Water always gives their customers price quotes over the phone and even posts their prices on their website: http://www.americanhomewater.com.
A home reverse osmosis system provides bottled quality water at your kitchen sink and a refrigerator icemaker and water dispenser. The systems actually make water that is so pure, users can see through an ice cube end to end along the edges. And the price is reasonable when considering the long-term health benefits, because the systems cost between $169 and $299 installed, but require an extra charge for icemaker hookup, for faucets other than chrome, designer faucets and to drill granite countertops.
A reverse osmosis system requires an annual filter change and check up to insure a long service life. That cost is $84 for a four-stage system and $94 for a five-stage. And to help ensure that the system continues to operate properly, American Home Water takes the time to call customers annually as a reminder.
To learn more about American Home Water and to schedule an installation or get pricing information please visit American Home Water's website at http://www.americanhomewater.com or call them directly at (602) 993-0083.