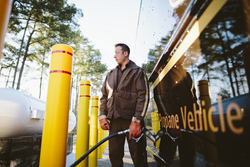 The UPS announcement marks one of the single largest alternative fuel vehicle purchases in the package delivery industry.
INDIANAPOLIS, IN (PRWEB) March 05, 2014
CleanFUEL USA, an industry leader in propane autogas technology, today announced that UPS® will be using CleanFUEL USA's Liquid Propane Injection (LPI) system in its planned purchase of 1,000 propane autogas package delivery trucks, as well as multiple refueling stations across the United States.
"The UPS announcement marks one of the single largest alternative fuel vehicle purchases in the package delivery industry, and we are thrilled to provide CleanFUEL USA equipment to help the company invest in an environmentally friendly energy source and realize cost savings with American-made propane autogas," said Curtis Donaldson, founder and managing partner of CleanFUEL USA.
The UPS delivery truck is based on a new CleanFUEL USA offering, the Freightliner Custom Chassis MT-45 walk-in van with CleanFUEL USA LPI system and 6.0L engine provided by Powertrain Integration. The truck will be on display in the Propane Education and Research Council (PERC) booth, #5103. The MT-45/55 application is CARB and EPA certified.
As well today, CleanFUEL USA announced its new vehicle offering, the GMC C2500 pick-up truck equipped with 6.0L engine and CleanFUEL USA LPI system, which is proven to be one of the most technologically advanced propane autogas systems available in the United States. This recently updated system includes a simplified design and new fuel rails for reduced weight, yielding less heat absorption and promoting the liquid phase of the propane injection process. The new vehicle offering is on display in booth #5291, along with CleanFUEL USA's CFT PRO 6100 propane autogas refueling dispenser.
"There is a gap in the light-duty market segment in that a large number of fleets are using these vehicles in day-to-day operations and are looking for an alternative to gasoline, diesel and natural gas. Our 6.0L offerings help these fleets realize the benefits of propane autogas while experiencing no loss in power or payload," said Wayne Moore, COO of CleanFUEL USA.
CleanFUEL USA is expected to soon gain EPA certification for a vast number of General Motors (GM) 6.0L light-duty applications, including GM's 2500/3500 pick-up trucks and cargo vans.
Propane autogas is the third most widely used transportation fuel globally, and is proven to be the most attractive option from an economic and environmental standpoint. Already the leading alternative fuel in the United States, propane autogas costs an average of 30 to 40 percent less than gasoline, and up to 50 percent less than diesel. The lowest greenhouse gas emitting fuel, vehicles fueled by propane autogas emit 20 percent less nitrogen oxide, 60 percent less carbon monoxide and up to 25 percent less greenhouse gases.
About CleanFUEL USA:
CleanFUEL USA, the nation's first developer of liquid propane fuel injection systems, is a leading manufacturer of propane autogas dispensers and refueling infrastructure. Headquartered in Georgetown, Texas, with an engineering division in Wixom, Mich., CleanFUEL USA celebrates more than 20 years of innovation. Setting industry standards with a complete alternative fuel solution, CleanFUEL USA products offer unsurpassed economic and environmental advantages. Learn more at http://www.cleanfuelusa.com.
Connect on Twitter (@CleanFUELUSA), Facebook (facebook.com/CleanFUELUSA), YouTube (youtube.com/CleanFuelUSA1) and LinkedIn (linkedin.com/company/cleanfuel-usa).