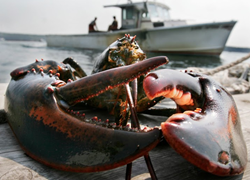 "Having the Maine Lobster Marketing Collaborative backed by significant marketing dollars will help businesses like mine do an even better job at getting the word out," says Mark Murrell
(PRWEB) March 05, 2014
In an article on Friday, Boston.com reported that the state's 2013 lobster catch hit a record, valued at $364.5 million.
David Sharp, for the Associated Press, reported that the size of the catch topped 100 million pounds for a third consecutive year, adding that the value of the lobster catch grew more than 6 percent from the previous year.
For the Maine lobster industry, this is good news. Two summers ago, fishermen caught so many lobsters early in the season that market prices crashed. Since then, industry officials have been working to better market lobster in hopes of driving up both demand and prices.
According to Sharp, this was the impetus for creating the Maine Lobster Marketing Collaborative last year, a state-supported program to promote lobster and identify untapped markets, in an effort to earn fishermen higher prices.
Mark Murrell, founder and CEO of GetMaineLobster.com, appreciates the efforts.
"Having the Maine Lobster Marketing Collaborative backed by significant marketing dollars will help businesses like mine do an even better job at getting the word out," says Murrell.
Marianne Lacroix, acting head of the Maine Lobster Marketing Collaborative, shared in a segment on MPBN that although research has indicated that consumers associate lobster with Maine, they don't necessarily have a clear idea of what the words "Maine lobster" really mean, in terms of its sweet, succulent taste. As a result, MPBN reports that Lacroix is looking for partners – including the Culinary Institute of America – to help introduce the classic Maine lobster to higher-end restaurants and hotels.
Murrell finds this in perfect sync with current restaurant and consumer trends, which include a growing interest in locally-grown, natural and sustainable foods.
"More and more of the customers we see are interested in where their food is sourced from," Murrell says. "We eagerly provide that information in our marketing efforts, knowing Maine lobster is something to brag about."
About GetMaineLobster.com:
GetMaineLobster.com, a division of Black Point Seafood and Black Point Gourmet, hand-selects the finest Maine lobster, seafood and beef products for convenient distribution throughout the United States. Their passion is to make fresh, quality seafood readily available to customers across the country, which is why they buy from only the most trusted, well-established suppliers to ensure that they receive the finest products available.
GetMaineLobster.com was selected out of the more than four million small American businesses served by Chase bank to represent its new Platinum Business Checking product for its 2013 national advertising campaign.