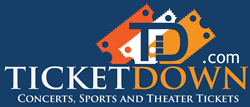 New York, NY (PRWEB) March 04, 2014
Ticket Down announces that with dozens of elite-level summer tours already in the books for 2014, Linkin Park entered the fray with the announcement this week that they will be heading out with Thirty Seconds to Mars and AFI. The tour will be known as the "Carnivores Tour," and will begin with a show at the Cruzan Amphitheatre in West Palm Beach, FL on Aug. 8 and will run through a show at the Concord Pavilion to Concord, CA. The three groups help a joint press conference on March 4th to announce the news of the tour, which reached the Internet ahead of time due to Linkin Park's fan club. The three groups heading on the tour are some of the most respected artists in North America.
Find 2014 Carnivores Tour Dates Below:
08/08 − West Palm Beach, FL @ Cruzan Amphitheatre
08/09 − Tampa, FL @ Steinbrenner Field
08/12 − Charlotte, NC @ Verizon Wireless
08/13 − Bristow, VA @ Jiffy Lube Live
08/15 − Camden, NJ @ Susquehanna Bank Center
08/16 − Mansfield, MA @ Comcast Center
08/18 − Holmdel, NJ @ PNC Bank Arts Center
08/19 − Wantagh, NY @ Jones Beach
08/21 − Buffalo, NY @ Darien Lake
08/23 − Montreal, QC @ Parc Jean Drepeau
08/24 − Toronto, ON @ Air Canada Center
08/26 − St. Paul, MN @ Minnesota St. Fair
08/27 − Winnipeg, SK @ MTS Center
08/29 − Chicago, IL @ First Midwest Bank Pavilion
08/30 − Detroit, MI @ DTE Energy Music Theatre
09/06 − Houston, TX @ Cynthia Woods Pavilion
09/06 − Dallas, TX @ Geza Energy Pavilion
09/08 − Denver, CO @ Fiddler's Green
09/10 − Phoenix, AZ @ US Airways Arena
09/11 − Irvine, CA @ Verizon Wireless Amphitheatre
09/13 − Quincy, WA @ The Gorge
09/15 − Hollywood, CA @ Hollywood Bowl
09/16 − San Diego, CA @ Sleep Train Amphitheatre
09/18 − Sacramento, CA @ Sleep Train Amphitheatre
09/19 − Concord, CA @ Concord Pavilion
Linkin Park formed in 1996 and got their big break in the music business in 2000 with their debut album. Titled Hybrid Theory, the album was certified Diamond by the Recording Industry Association of America for selling more than 10 million copies. Throughout the world, the highly acclaimed album has sold more than 27 million copies and is one of the highest selling albums in the genre in American history. Their 2003 follow-up, Meteora, sold more than four million copies in the United States. Their collaborative with Jay Z, Collision Course, which was released in 2004 was extremely successful, selling more than five million copies worldwide.
Thirty Seconds to Mars joined forces in 1998 with Jared Leto, Shannon Leto and Tomo Miličević. Their self-titled debut album was released in 2002 and was critically acclaimed. It didn't fare as well in terms of sales in the United States, but it was still an album that helped grow their fan base. Their sophomore album, A Beautiful Lie, was a hit around the world and has sold more than four million copies to date. In the States alone, it sold more than 1.2 million copies with the help of singles "The Kill," "From Yesterday," and "Attack."
AFI originally joined together in 1991 and have had the same group since 1998. They have a steady following that has supported them through their nine studio albums. They reached mainstream status in 2003 with their sixth album. That record, titled Sing the Sorrow was certified platinum by the RIAA, which their 2006 release, Decemberunderground, also achieved.
When Linkin Park, 30 Seconds to Mars and AFI head out on the "Carnivores Tour," they will be invading dozens of rock-crazed cities that will cheer them on. Among the venues that will host the tour include Jones Beach on August 19th in Wantagh, NY; Air Canada Center in Toronto, ON; U.S. Airways Arena in Phoenix, AZ; Hollywood Bowl in Los Angeles, CA; and Steinbrenner Field in Tampa, FL.
Among the songs fans will hope to hear the headlining acts perform include "One Step Closer," "Papercut," "Somewhere I Belong," "Numb," "Breaking the Habit," "What I've Done," "New Divide," "Waiting for the End," "Burn it Down," and "The Catalyst."
About TicketDown.com:
Ticket Down delivers tickets to sold out concerts and events worldwide when no one else can, and they do so at discounted prices. As a member of TicketNetworkDirect, they can guarantee the delivery of tickets on time for sporting events like NASCAR, NBA, NFL, and NHL. This popular ticket exchange also has tickets for the Carnivores tour featuring Linkin Park, Thirty Seconds to Mars and AFI at everyday low prices.