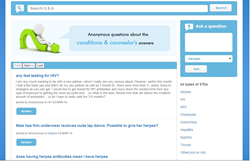 HerpesFish.com is more than just a herpes dating site, and strives to be reliable source of information, advice and counseling.
(PRWEB) March 18, 2014
The dating site for herpes positive singles, HerpesFish.com, listens to their members. In response to members' feedback and suggestions, the STD questions and answers page has been reformed.
Posting questions remains 100% anonymous. That will never change. In fact, members' privacy is maintained across the entire HerpesFish.com website.
Asking questions pertaining to dating when herpes is a factor is a service offered to standard and gold HerpesFish.com members, as well as website visitors. Visitors to HerpesFish.com are welcome to ask questions, but they'll be asked to register to be able to view the answers. That is unless the question and answers by members are made available in the public area of the website. Members and visitors alike are able to ask about meeting someone with herpes, dating when one or both partners are HSV2 positive, break out triggers, treating symptoms, etc., and be confident they will never be identified.
Visitors registering to be able to review answers to their questions become standard members.
The identities of members and visitors are kept private, but many of the questions asked and the answers given are posted to the public area of the website. This is done in accordance with the HerpesFish.com's mission to help anyone with herpes seeking information or advice about herpes in general, and herpes dating.
Standard members are able to view all answers to questions, except for those answers made by HerpesFish.com counselors. Only gold members are able to access counselors
directly.
Both standard and gold members are able to answer questions or provide advice. However, only the questions answered by Counselor are considered to have been 'officially answered'. This is not meant to be a negative reflection on members' contributions, but rather an assurance that the answered inquiry was addressed by someone with experience and extensive knowledge pertaining to the social and medical realities of STD positive people interacting socially or physically.
HerpesFish.com prides itself on being more than just a herpes dating site, and strives to be reliable source of information, advice and counseling.