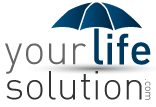 Chicago, IL (PRWEB) March 05, 2014
Eric Smith, the founder of YourLifeSolution.com, has formulated a concept for self employed individuals to maintain affordable health insurance while funding their future need for out-of-pocket expenses using tax-free dollars. The concept works at its best if a consumer can remain healthy for five or more years after executing the concept.
YourLifeSolution.com's Three Steps to Acquire and Maintain Affordable Health Insurance:
First, an applicant needs to purchase a bronze plan either through the health care exchange or a private agent. According to Eric Smith, this plan will generally run $110 a month for an individual on the low end of the spectrum, and over $450 for the oldest applicants.
Then, a health savings account needs to be opened by the insured. The maximum annual tax deductible conributions to this account are $3300 for individuals and $6500 for families. YourLifeSolution.com estimates that after funding an HSA for five years an applicant will have far more than enough funds to cover their health insurance deductible for several years should a catostrophic event occur.
Finally, since the health insurance premiums of an applicant or family will be far lower under this concept than with most all other health insurance arrangements, there will be far more capital to deal with major medical expenses when they take place. "To avoid financial stress at the time these expenses must be paid, it is a good idea to use the savings to purchase critical illness insurance, additional life insurance, and umbrella insurance. The increased exposure to relatively small health expenses in exchange for having more funds to handle other massive financial risks is a completely logical risk management plan," says Eric Smith.
Consumers seeking information on term or permanent life insurance products are encouraged to visit YourLifeSolution.com, or call Eric Smith at 888.374.2764.