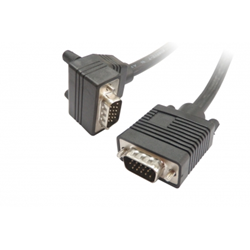 (PRWEB) March 05, 2014
Recently, Hiconn Electronics, an outstanding online shop offering various kinds of useful devices, has announced its new Right Angle SVGA Cable collection at its online store. As a special offer for March, the CEO of the company has also stated that all these cables are offered at discounted prices, up to 28% off.
"We are pleased to introduce our new range of Right Angle SVGA Cables. All distributors throughout the world can enjoy the discounts before March 25. We have confidence in all our products, because we have a professional team that can always make customer-oriented items at affordable prices. Our brand new cables are guaranteed to have great performance and made with quality materials," he says.
Here is some detailed description of the company's Right Angle SVGA Cables:
--Model No.:CC5052
--Approvals:CE-FCC-RoHs2-CCC-REACH
--Packing Info.:50PCs/CTN
--Payment Terms: L/C-T/T-Western Union-Paypal
--Minimum Order Quantity:10PCS
--Ideal for high resolution monitors (1024x768 and above)
--Triple-coaxial + twisted-pair wire for crystal clear display
--Impedance matched at 75 Ohms for full brightness and vibrant picture color
--Molded connector ends with strain relief
--Right Angle Connector
What's more, the Right Angle SVGA Cables from Hiconn Electronics come in various patterns. A lot of clients are impressed with their nice shapes and excellent performance. Its fresh selection is specially created to meet the huge demand in the global market.
About Hiconn Electronics
Hiconn Electronics (Shenzhen Hiconn Electronics Co. Ltd.) is devoted to designing and manufacturing a wide range of connection cables and customized cable assemblies, offering many HDMI cables, VGA cables, SATA cables, USB cables, 1394 cables, DVI cables, SCSI (Small Computer System Interface) and more. For more information, please visit http://www.hiconn.net/.
Contact Person: James Yin (Sales Director)
Company Name: Shenzhen Hiconn Electronics Co., Ltd.
Address: Shenghua Building., Xixiang Road., Baoan District, Shenzhen, Guangdong Province, China
Zip Code: 518102
Tel: +86-755-8109 8345
Fax:+86-755-2779 3497