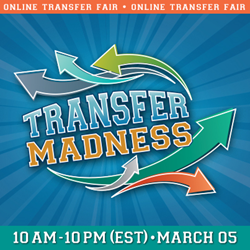 I started with one class, not knowing where it was going to take me. - KCTCS/BCTC transfer student Ileana Padilla Fiola
Versailles, KY (PRWEB) March 05, 2014
March is full of madness on the basketball court; and in the spirit of tournament season comes Transfer Madness, an online college fair helping Kentucky students develop a game plan to transfer college credits to the state's four-year colleges or universities.
Transfer Madness is the only online college fair of its kind in the country. Students can register now at transfermadness.org and on Wednesday, March 5 from 10 a.m. to 10 p.m. (ET) the interactive website will connect students with prospective colleges.
The Transfer Madness website features virtual booths from 25 public and independent colleges and universities. Students can view college program videos, download e-brochures and review important transfer and scholarship information. College advisors and admissions representatives will also lead live chat sessions to answer transfer questions on the spot.
A growing number of students at Kentucky four-year colleges are transfer students from the Kentucky Community and Technical College System (KCTCS).
For student Ileana Padilla Fiola completing an associate degree at Bluegrass Community and Technical College (BCTC) gave her the confidence and motivation she needed to pursue a bachelor's degree.
"I always wanted to go to college but I wondered was I smart enough to go, can I make it and do well?" said Fiola. After graduating from BCTC with honors and scholarship money, Fiola transferred to Eastern Kentucky University (EKU). She currently has a 3.9 GPA and is on track to receive her bachelor's degree in May.
"I started with one class, not knowing where it was going to take me," said Fiola.
Transfer Madness is sponsored by the Council on Postsecondary Education (CPE) and KCTCS. CPE reports show Kentucky has seen a nearly 30 percent increase in the number of KCTCS students transferring to state public or independent institutions to pursue a bachelor's degree.
Students can register for the online fair and learn more at transfermadness.org.