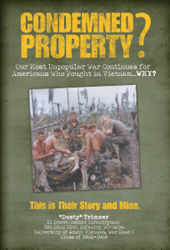 (The book) provides a stark portrait of day and night combat and its lingering effects on veterans.
Aurora, OH (PRWEB) March 05, 2014
Veterans of the Vietnam War, now in their mid-60s to early 70s, made it through that dreadful conflict but were changed forever. Some tried to push their memories away, only to be haunted by what happened in South Vietnam, while others want to speak but find few who will listen. This new book by Dusty Earl Trimmer, himself a decorated combat infantry Vietnam veteran, shares his and his war buddies' experiences and what it's like to live as a survivor of America's most unpopular war in history that continues to haunt them.
"Condemned Property?" provides a stark portrait of day and night combat and its lingering effects on veterans, including the author. For instance, Trimmer changed jobs almost two dozen times because he couldn't find or keep a job with an employer willing to risk employing a "crazy" Vietnam veteran and he nearly killed himself in high-speed car accidents more than once. Many of his fellow survivors came back unable to work, becoming homeless and unable to care for themselves. From descriptions of combat maneuvers to accounts of everyday nuisances – such as bathing in Agent Orange run-off – and then the unforgettable hostile welcome home many Vietnam veterans had once they came home, Trimmer brings the war to life in vivid detail, as only someone who served there can do.
"Condemned Property?" pulls no punches and shows no fear of the large organizations that have dismissed or delayed the benefits deserved by veterans of all wars. "Condemned Property?" is an indictment of abandonment and betrayal that is shared among most Vietnam veterans. It is truthful, supported with facts. "Condemned Property?" shows no mercy on the Ameri-Cong media that fed lies to Americans about the Vietnam War and its warriors.
Trimmer writes that he wanted to publish the book to preserve memories of the Vietnam War veteran's generation as those veterans are dying every day, as well as to inspire them to never give up if they are trying to get help from the Veterans Administration.
----------
For additional information, please visit http://www.condemnedpropertybook.com.
CONDEMNED PROPERTY? $25 US Paperback
Dusty Earl Trimmer $29 US Hard Cover
Dog Ear Publishing $9.99 E-book
ISBN: 978-1-4575-2290-1 (484 pages)
Available at Amazon.com, Barnes & Noble and fine bookstores everywhere.