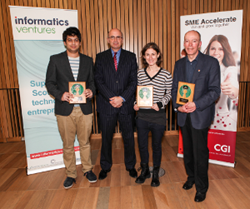 Open source is an unstoppable force, the primary trajectory driving innovation and is the pervasive model of the future.
Edinburgh (PRWEB UK) 7 March 2014
The UK Open Source Awards attracted a wide variety of very high quality nominations in each of the Student, Person or Project and Company categories. The process of selecting a short list and choosing a winner in each category was a difficult task for the judges.
Keith Bergelt of the Open Invention Network gave an insightful and inspiring keynote speech and noted the energy and commitment of the open source community in general and the tangible sense of purpose and coherence among the delegates to the event evening. Keith was also persuasive that open source was an unstoppable force, the primary trajectory driving innovation and would be the pervasive model of the future.
Awards host, Maggie Morrison, from event sponsors CGI, capturing the spirit of the evening, noted that "open source is all about community and the evidence for that is here this evening".
It is with great pleasure that the judges announce that the winners of the Awards were:
Student Prize (£500) – Riaz Moola for his work on MOOCS
Project/Person Prize – Allan Day of the GNOME Project for his contribution to design
Company Prize – Alfresco for providing leadership and innovation in technology
John Powell, CEO of Alfresco, accepting the prize on behalf of the company said, "We're delighted to have been recognised by the UK Open Source Awards. Our goal is to enable businesses today to collaborate simply and enable them to embrace new and innovative ways of working. Open Source is a fundamental part of our DNA."
Allan Day, winner of the person/Project prize was delighted to have been selected as a winner and commented, "Promoting design in open source is something that I am passionate about, so the fact that this year's award has gone to a designer is a great sign. It is also a fantastic recognition of the leading role played by the GNOME project in this area."
Event organisers, leading SugarCRM open source consultancy SalesAgility have pledged to run the event again in 2015.
SalesAgility CEO Greg Soper added, "I'd would like to thank the sponsors, CGI, Emerge Open and Net Talent for their support. Without them this event would not have been possible. I'd also like to thank the judges Amanda Brock from Origin, a Technology Law firm, and Niall McCarthy from Emerge Open for their patience, wisdom and diligence – they made great choices. Last and not least, the support and encouragement from Informatics Ventures was crucial to the successful delivery of the event.".