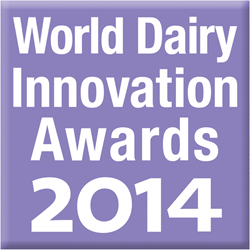 The World Dairy Innovation Awards are the highlight of the year for the dairy industry
Bath, Somerset (PRWEB UK) 6 March 2014
The World Dairy Innovation Awards have been running since 2007. Every year they celebrate the best product launches, line extensions, technology, manufacturing and packaging innovations, the best dairy marketing campaigns as well as rewarding good corporate social responsibility.
The awards provide the perfect platform for both large and small companies to demonstrate the steps they have taken to transform and improve the dairy industry. This year the awards are being held at the 8th Global Dairy Congress in Istanbul on the 17th June at a special gala dinner. Entries close 25th April.
17 awards will celebrate excellence and innovation in six categories, including dairy products from yogurt and ice cream to cheese and dairy drinks, plus ingredients, packaging, manufacturing and processing and marketing. A Showcase magazine featuring all entries will be available at the event and circulated to all readers of the print and digital editions of Dairy Innovation magazine.
"The awards are the highlight of the year for the dairy industry, not only do they celebrate tremendous hard work by dairy companies across the world they also provide the best insight into which products will be leading the industry, this year and next. They are watched by retail buyers and industry experts across the globe in order to see what the next successful products and innovations in dairy will be," said FoodBev Media marketing executive Ruth McMenamin.
Meiji group Japan have entered the awards every year since they launched and see them as an important part of their marketing strategy, "The World Dairy Innovation Awards are the only international product awards in the dairy industry and therefore serve as an important showcase for new ideas. The award is not only something for our company to be proud of, but also provides an opportunity to acknowledge the individuals who develop our products."
Last year the awards attracted over 140 entries from over 25 different countries. "This is a very exciting year for dairy, we have seen the market boom in Asia and Africa and I am particularly excited to see some of the new innovations arising from these regions. FoodBev.com and Dairy Innovation magazine have featured hundreds of new and very successful dairy products that have not been seen in Europe and North America because they cater for a local palate. It is exciting to see so much growth and innovation within the dairy industry within these regions. Similarly the health benefits of dairy have also been well documented and publicised this year which has seen some fantastic marketing campaigns boosting dairy sales around the world," said FoodBev Media group editorial director Bill Bruce.
If you would like to enter this year's World Dairy Innovation Awards you can take a look at the awards website where it is very easy to enter.

£195 per category (£195+ VAT for UK entrants) which is about $320 or €250.
Open to products and campaigns launched since 1 April 2013.
Entries close on 25 April 2013.