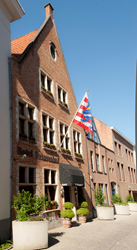 best small hotel in Belgium and best hotel for romance in Belgium
Bruges, West Flanders (PRWEB UK) 7 March 2014
Hotel Prinsenhof is a charming 4 star hotel situated in the heart of the medieval city Bruges and its architectural beauty - with colorful historic buildings, cobblestone narrow pedestrian streets and romantic canals that meander through the heart of the old city has greatly influenced the decor of all the rooms. The 24 beautifully decorated luxury rooms ooze comfort and class with soothing palettes, spacious interior designs and the utmost attention to detail.
Hotel Prinsenhof is delighted and honored to accept not one but 2 Tripadvisor 2014 Traveller's Choice Awards for best small hotel in Belgium and best hotel for romance in Belgium. These awards are the culmination of several years of hard work by the staff and employees on the basis of the reviews and recommendations attributed by guests and visitors from around the world.
Since Hotel Prinsenhof officially opened its doors to the public for the first time in 1986 it has seen a steady increase in visitors. Hence the recent renovation and expansion with 5 new rooms, a luxurious breakfast room, cosy lounge bar and a brand new elevator.
In addition, to further accommodate the needs of the guests a stylish new website was launched consistent with the luxurious appeal of the hotel. Moreover special attention was given to the usability and accessibility of the site with a contemporary design.
Lastly, as a special treat to the guest and to further extend customer service a unique "Butler" service was created. Find interesting shops, museums, restaurants and other sights in the blink of an eye on your mobile device while enjoying a cup of coffee or a delicious treat.
 
Find more information about Hotel Prinsenhof on Tripadvisor.
 
Or visit the website of Hotel Prinsenhof.