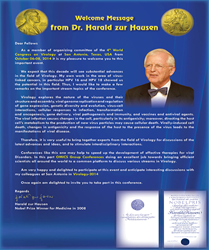 Dr. Harald Zur Hausen, Nobel Prize Winner 2008, is an organizing committee member of 4th World Congress on Virology, October 06-08, 2014 at San Antonio, USA.
Henderson, Nevada (PRWEB) March 06, 2014
OMICS Group International Conferences is announcing Dr. Harald Zur Hausen, Nobel Prize winner 2008, as an organizing committee member of the 4th World Congress on Virology which will be held during October 06-08, 2014 at San Antonio, USA.
Virology Conference is also offering early bird registration discounts till 26th March 2014.
Virology 2014 has taken a different form of event prospectus after Dr. Hausen accepted the position of organizing committee member at the OMICS Group Conferences. Dr. Haral ZurHausen, who won the Nobel Prize for medicine in 2008, did research and investigations on how cervical cancer is triggered by viral infections. 30 years ago Dr. Hausen suspected a relation between human papillomavirus (HPV) infections and cervical cancer, and then in 1980s, he with his research group isolated HPV 16 and HPV 18 virus for the first time.
Virology World Congress 2014 will observe the theme: "Countering Disease Pathogenesis by Building Anti-Viral Immunity". The theme will be supported by OMICS Publishing Group medical journals. "Research in the field of virology is unfolding several advancements leading to discoveries that could prevent even killer diseases through vaccination," addresses Dr. Srinubabu Gedela, CEO and Managing Director, OMICS Group International.
OMICS Group Medical Conference – Virology 2014 - will observe various eminent and keynote speakers at the conference. Some of the names will include: Ralph A. Tripp, University of Georgia, USA, Charles Russell, St. Jude Children's Research Hospital, USA, Julia Hilliard, Georgia State University, USA, Larry Kauvar, Vice President, Chief Scientific Officer, Trellis Bioscience, USA, Anton Sholukh, Texas Biomedical Research Institute, USA, Koushik Chattopadhyay, University of Pittsburgh, USA, and Rajan George, Cofounder, President & Chief Scientific Officer at Akshaya Bio Inc, USA.
OMICS Group International, who publishes more than 350 open access and scholarly journals online and also organizes 100 International Conferences all around the world each year, recently tried to bridge the gap between industry and academia. In addition to providing free access to scientific information, this open access publisher and scientific event organizer collaborated with various national and international not-for-profit scientific associations.
In the light of these collaborations, Virology World Congress 2014 is announcing the conference to be in collaboration with the Pan American Society for Clinical Virology.
Some of the major Tracks of this 217th OMICS Group Conference are said to include: General Viral Science, Viral Breakout: Prevention and Measures, Human Viral Diseases Affecting Afro-Asian Continents, HIV and Other Retroviral Diseases Affecting Afro-Asian Continents, Organ Specific Cancers and Tumor Virology, Respiratory and Vector Borne Diseases, Therapeutic Approaches and Targets for Viral Infections, Viral Hepatitis, Viral Immunology, Neurological Infections Associated with Viruses, Agriculture and Plant Virology, Animal Viruses, Bacteriophages, Recent Advances in Drug Discovery, and Current Focus in Virology Research.
To learn more about Virology 2014 or to discover Dr. Haral Zur Hausen's presence, please contact the organizers office at:
Ms. Divya. Kothakonda
Virology-2014
5716 Corsa Ave., Suite110
Westlake, Los Angeles
CA 91362-7354, USA
P:+1-650-268-9744
F:+1-650-618-1414
E: virology2014(at)omicsgroup(dot)us