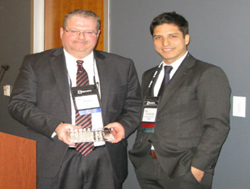 It is a great honor to see Stevens cited for the progress we have made, and more importantly are making, in moving our university to a position of prominence in the use of technology in higher education.
(PRWEB) March 05, 2014
David Dodd recognized by the New Jersey Technology Council
Hoboken, NJ – Stevens Institute of Technology's Chief Information Officer and Vice President for Information Technology, David Dodd, has been recognized as CIO of the Year-Non Profit by the New Jersey Technology Council. He recently accepted the honor at the annual NJTC CIO Conference in Bridgewater, NJ.
Dodd was selected based on a combination of categories including vision, leadership, corporate performance, innovative business achievements and social responsibility.
"It is a great honor to see Stevens cited for the progress we have made, and more importantly are making, in moving our university to a position of prominence in the use of technology in higher education," said Dodd. "I am humbled by this recognition, and particularly thankful that our IT team is recognized for their tremendous work."
"David's leadership, vision, and dedication to advancing Stevens' IT capabilities and infrastructure have brought Stevens to a new level," said Stevens President Nariman Farvardin. "Current and future generations of Stevens students will benefit immensely from his and his team's efforts."
Dodd led Stevens' IT response to the challenges posed by Superstorm Sandy and has made significant contributions to the strengthening and modernization of Stevens' technology infrastructure and systems to support academic and administrative requirements at the university, Farvardin noted. Those efforts include the planning and early-stage execution of comprehensive IT upgrades to support the Stevens Strategic Plan, which envisions "a campus IT and physical infrastructure befitting a world-class technological university".
Toward that end, Dodd was also instrumental in helping Stevens secure $7.25 million in funding support from the State of New Jersey's Building Our Future Bond Act to upgrade campus IT infrastructure. Once completed, two projects will transform the teaching and learning environment at Stevens through the deployment of a Virtualized Learning Environment (VLE) and a Unified Communication and Collaboration Environment.
"Today's CIO plays a strategic role in a company's daily performance and long term planning and taking the opportunity to honor and recognize their efforts has become a tradition at the CIO Conference," said Maxine Ballen, CEO and President of the NJTC.
About Stevens Institute of Technology
Stevens Institute of Technology, The Innovation University®, is a premier, private research university situated in Hoboken, N.J. overlooking the Manhattan skyline. Founded in 1870, technological innovation has been the hallmark and legacy of Stevens' education and research programs for more than 140 years. Within the university's three schools and one college, more than 6,100 undergraduate and graduate students collaborate with more than 350 faculty members in an interdisciplinary, student-centric, entrepreneurial environment to advance the frontiers of science and leverage technology to confront global challenges. Stevens is home to three national research centers of excellence, as well as joint research programs focused on critical industries such as healthcare, energy, finance, defense, STEM education and coastal sustainability. The university is consistently ranked among the nation's elite for return on investment for students, career services programs and mid-career salaries of alumni. Stevens is in the midst of a 10-year strategic plan, The Future. Ours to Create., designed to further extend the Stevens legacy to create a forward-looking and far-reaching institution with global impact.
About NJTC CIO Conference
KEEPING UP WITH RAPID CHANGES – February 27, Bridgewater, NJ
The 2014 CIO Conference focused on the top four priorities facing IT professionals in the coming year: Rapid implementation of Cloud Services – Analytics – Mobility – Security. Attendees gained value from presentations by keynote speaker, Jill T. Singer, Federal CIO Emeritus; Former CIO, National Reconnaissance Office and Former Deputy CIO for the CIA and featured speaker, Eddie Shain, Group Vice President, NATO Sales Consulting, Oracle. In addition to a CIO panel that focused on diverse cloud and security strategies, the CIO of the Year Award Honorees participated in a panel discussion about upcoming projects and challenges for 2014.
About the New Jersey Technology Council
The New Jersey Technology Council (NJTC) provides business support, networking opportunities, information, advocacy, and recognition of technology companies and their leaders. Founded in 1996, NJTC's member companies work together to support their own enterprises while advancing New Jersey's status as a leading technology center in the United States.