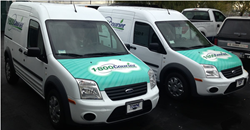 Atlanta, GA (PRWEB) March 06, 2014
1-800 Courier, a recognized leader in same-day delivery, messenger and transportation services, announces e-mail invoices and receipts for completed same-day deliveries. The announcement comes in an effort to inform its' customers of the availability of individual invoices and receipts, improve customer satisfaction and increase sales growth. 1-800 Courier strives to be the best choice in same-day courier solutions nationwide.
1-800 Courier offers the latest in courier technology with providing instant, automated order confirmations sent via e-mail to each customer. Invoices and receipts for same-day deliveries are available also for customers upon request the following day. This allows 1-800 Courier to process the payment for the courier order successfully with the final charge. Therefore, once an invoice and receipt is received by the customer, their rate charged is 100% accurate.
Invoices and receipts can be sent to customers quickly via e-mail. Within the invoice and receipt, the customer has listed the date the completed same-day delivery was made, the pick up and delivery address, the total amount paid, and the last four digits of the credit card used to pay for their order. 1-800 Courier can have the invoice and receipt e-mailed to an unlimited number of recipients as well.
These are not the same as the standard order confirmations, which are sufficient for many customers. However, other customers make an invoice and receipt request that are in need of company reimbursements for their expenditures. 1-800 Courier is a same-day courier that understands its' customers and offers these value-added services to meet their same-day delivery needs. The Dallas Courier is also available 24/7 for all of its' clients to answer any questions or make any invoice and receipt requests.
1-800 Courier is a premier same-day courier offering transportation and distribution services. From small packages to palletized freight, 1-800 Courier delivers fast! As a leader in the courier industry, their goal is to perform optimal courier logistic solutions and superior customer service every time. The courier service provides same-day delivery successfully for over 1,500 clients, including Fortune 500 companies throughout the US.