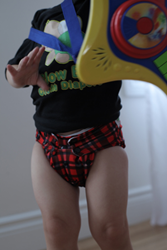 "Getting a good fit with cloth diapers is important to avoid leaks, improve the baby's comfort and to reduce the bulk under the baby's clothing."- Sarah Downey, Glow Bug Cloth Diapers Co-Owner
Barrie, ON (PRWEB) March 05, 2014
Glow Bug Cloth Diapers has published their guide called "How to Fit Cloth Diapers on Your Baby" on their website to help their customers size and fit their baby's cloth diapers. Glow Bug Co-Owner Sarah Downey says "Getting a good fit with cloth diapers is important to avoid leaks, improve the baby's comfort and to reduce the bulk under the baby's clothing."
According to the guide, the first step in fitting cloth diapers is to adjust the rise according to the size chart. Once all the cloth diapers have been adjusted and you are ready to put the diaper on the baby, Glow Bug recommends to make sure that there are no gaps and that the fabric lays smoothly against the baby's tummy. For all the advice and recommendations, see the full article here.
Glow Bug Cloth Diapers is based out of Barrie, Ontario and has been in business since early 2011 manufacturing and selling cloth diapers. Glow Bug Cloth Diapers us best known for offering cloth diapers that are high-quality, easy to use, fashionable and affordable. Glow Bug Cloth Diapers fit babies from newborn to potty training so you never have to buy diapers again, making them high-quality yet cheap cloth diapers.