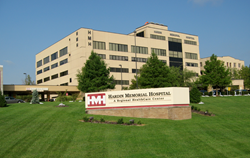 "Voalte implementation increased nurse-physician communication within the Emergency Department," said Sharon Wright, MSN, RN, NE-BC, VP and Chief Nursing Officer.
Sarasota, Fla (PRWEB) March 06, 2014
Voalte, the leader in healthcare communication technology, today announced that Hardin Memorial Hospital, an acute healthcare facility that serves nearly 300,000 patients each year, improved clinical response time by integrating telemetry alarms with smartphones via middleware. The smartphones also improved nurse-to-physician communication with the use of secure text messaging.
According to a recent case study, Hardin Memorial's IT, Telecom and Clinical Engineering departments selected Voalte smartphones for clinical communication. The hospital had previously used pagers and overhead paging, but these methods overwhelmed caregivers and increased the number of communication breakdowns. The case study shows that the presence of smartphones now connects caregivers quickly and improves clinical workflow, resulting in more efficient patient care.
"Our teams worked directly with the clinical staff to identify leading-edge technology that would improve workflow," said Chad Williams, Telecom Specialist. "We decided to take a different approach. We gave Voalte® smartphones to nurses, Respiratory Therapists, Transporters, Phlebotomists and Radiology Techs in several departments."
Using Voalte One™, the clinical team is able to receive secondary telemetry monitor alarms directly to the smartphone, which simplifies the alarm escalation process and allows for more efficient care delivery. The staff can also send and receive secure text messages, which cut back on noisy phone calls and foster a quieter environment for patients.
"Voalte implementation increased nurse-physician communication within the Emergency Department, decreased the noise level, and allowed real-time cardiac monitor alarms to transmit directly to RNs," said Sharon Wright, MSN, RN, NE-BC, VP and Chief Nursing Officer.
To download the full case study, please visit the Voalte case study library.
About Hardin Memorial Hospital
Hardin Memorial Hospital is a not-for-profit, 300-bed acute care hospital, which is county-owned and whose Board of Trustees consists of the members of Hardin County Fiscal Court. Hardin Memorial Hospital is managed by Baptist Ventures, Inc. and is accredited by The Joint Commission. The hospital serves a ten county service area with a population of 350,000. The Emergency Department sees more than 58,000 patients per year. Outpatient services continue to grow with more than 40 locations throughout the region. For more information, visit http://www.hmh.net or call 270.737.1212.
About Voalte
Voalte develops smartphone alternatives that simplify caregiver communication. As the only company to offer a comprehensive Mobile Communication Strategy, Voalte enables care teams inside and outside the hospital to access and exchange information securely. Voalte customers benefit from a solid smartphone infrastructure that supports their existing systems and expands to accommodate future technologies.
Founded in 2008, Voalte is a privately held company based in Sarasota, Florida. Over 35,000 caregivers use Voalte products every day. For more information, visit voalte.com or follow @Voalte on Twitter.