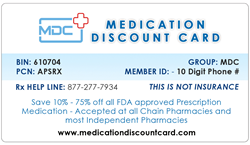 San Antonio, TX (PRWEB) March 06, 2014
As of 2013, diabetes affected nearly 26 million people—more than 8% of the U.S. population. This number includes those diagnosed with "pre-diabetes" as well as those who manage their condition with diet and exercise, oral medication, or by injecting insulin. Diabetes is a serious condition, and improper management can lead to blindness, limb atrophy and amputation, and even premature death. Last year, diabetes was listed as the primary cause of over 70,000 deaths. That's why MedicationDiscountCard.com offers patients huge savings on medications like Lantus and Metformin, which treat diabetes. For diabetic and pre-diabetic patients, medication is often an essential component of managing the condition, along with diet and exercise.
Even with over three million new Obamacare enrollments, prescription drug costs continue to be a financial hurdle for many families. Last year, nearly 50 million patients declined to get their prescriptions filled. For most, this was due to cost. This rampant prescription non-compliance doesn't just risk the lives of patients; it also leads to lost work hours, declining productivity, and higher medical bills down the road. Medication discount cards that help patients afford drugs like Glynase, Metformin, and Lantus save everyone money in the end. Offering discounts of 10% to 75% on prescription medications also saves lives.
Lantus discount cards offer big savings on drugs that help manage diabetes—and they're easy to get. Patients can obtain their free cards at AffordRx.com. No medical questions are asked, no exam is required, and there's no paperwork to fill out. Print the card at home for instant use, or request it to be sent via postal mail at no charge. Once the card is in hand, it can be used without limit at any of the many participating chain and local pharmacies nationwide including (but not limited to): Cub, Walgreens, Publix, Kroger, Winn-Dixie, Kmart, CVS, Costco, Rite-Aid, Target, Safeway, Giant, and many more. Thousands of local pharmacies also accept this card as well. MedicationDiscountCard.com saves money and lives.