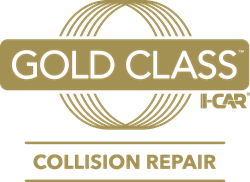 We are proud that all of our Auto Body Shops are Gold Class collision repair facilities, it shows our dedication to our customers
Hurlock, Maryland (PRWEB) March 06, 2014
I-Car Gold Class designation lets a customer know that a collision repair shop has trained technicians who know how to properly repair vehicles. I-Car was founded in 1979 and is an international, non-profit training organization that is dedicated to improving the quality, safety, and efficiency of auto collision repair all for the benefit of the customer. Only 10% of collision repair shops currently complete the rigorous training requirements needed to meet the Gold Class standard. Snow Hill, Preston, and Cambridge Auto Body are all Gold Class designated. This means the shops have gone through all the rigorous training requirements. Current training has become more and more important since there are more new materials and technologies that are out. Gold Class shops are trained to make the right decisions for a safe repair, find hidden damage others may not see, use the latest repair processes and technologies, and know which parts to repair and which to replace. When the Gold Class symbol is displayed a customer should know that the shop trains every technician involved in collision repair every year so that anyone who touches the customer's car understands new technologies and repair procedures. The Gold Class shop also trains experts representing each of the four key collision repair roles of Estimator, Non-Structural Technician, Steel Structural Technician and Refinish Technician. Since vehicle advancements will never stop, training can never stop either. If there is a lapse in training, even for a year, then the shop's Gold Class designation is taken away.
There are a few questions that should be asked by the customer when looking to get their vehicle repaired at an auto body shop and collision repair facility. The first is if the shop is an I-Car Gold Class business. Again, all of the Auto Body shops with Preston Automotive Group are Gold Class designated. The next question a customer should ask is if the shop has experience working with their specific make and model of vehicle. Preston, Snow Hill, and Cambridge Auto Body shops can repair any make and model vehicle. No job is too big or too small for them to fix. Another great question to ask is how long the repair will take on the vehicle. Preston Automotive Groups body shops have a unique program called Frog Watch. Frog Watch allows customers to see exactly where their vehicle is at in the repair process. Customers can check the repair status of their vehicle daily or weekly and call the body shop if any questions arise.
Preston Auto Body, Cambridge Auto Body and Snow Hill Auto Body are all honored to be named Gold Class collision repair facilities. Brian Grimm, the body shop director stated, "We are proud that all of our Auto Body Shops are Gold Class collision repair facilities, it shows our dedication to our customers". Interestingly, Brian Grimm who is the Auto Body Director for all three shops in the Preston Automotive Group, also teaches local I-Car Gold Class courses in both Delaware and Maryland.
About Preston Automotive Group
Preston Automotive Group services the Delaware, Maryland, Virginia and Pennsylvania areas with Ford, Lincoln, Mazda, Hyundai, and Nissan brands. The auto group carries the largest selection of new and used cars and trucks. Additionally, the dealership services all makes and models, both imported and domestic cars with ASE certified and factory trained technicians. To further serve your automotive needs the Preston Automotive Group is also home to 3 auto body shops conveniently located around Delmarva in Preston, Cambridge, and the newest facility in Snow Hill, Maryland.