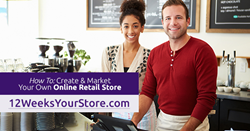 Warsaw, IN (PRWEB) March 13, 2014
According to Bloomberg.com, 8 out of every 10 businesses fail within the first 18 months. Many entrepreneurs are under the impression that starting a business is all guesswork, and keeping it alive is just luck.
Sandi Krakowski, featured in Forbes and Entrepreneur Magazine for her business tactics, will be hosting a course titled, "12 Weeks Your Store." Krakowski built her first $4.5 million business from her kitchen table and is sharing how she did it in this step-by-step course.
Krakowski will show every step to building an online business including what to sell, how to market the product or services, and how to grow the business. Attendees will have access to weekly video training and live Q&A sessions with Krakowski.
"Any serious business owner can set up their own store and be in business in less than a few weeks with these simple steps," states Krakowski.
The program is designed to be applicable for any small business owner, even those with individual niches. This course begins on April 15, 2014, and is selling out quickly.
About Sandi Krakowski- Digital Media Marketing Expert noted by Forbes as a Top 20 Women Social Media Influencer and a Top 50 Social Media Power Influencer. Sandi is known in the marketplace for living an outrageous life, giving to many causes, writing, cooking and enjoying her family while serving over 2 million clients. She has a historic track record of building an online social media presence with more than 600,000 clients connected to her in less than 18 months. But the core of who Sandi is revealed in her powerful teaching on faith, belief and the power to #BEMORE in all areas of life. You can find her at: http://www.arealchange.com.