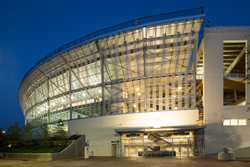 Cambridge is working with a growing number of designers and engineers to fabricate and install mesh into sports-related projects.
Cambridge, MD (PRWEB) March 06, 2014
Architecture firms looking for a competitive edge in stadium and sports venue design are increasingly incorporating metal mesh in interiors and exteriors to create striking, yet functional facilities. Cambridge Architectural has integrated the distinctive building material – recognized for its durability and sustainability in achieving LEED certification – into a number of high profile sports facilities.
Cambridge recently fabricated 508 stainless steel panels that now cover nearly 50,000 square feet of the north and south end zone facades of the Cotton Bowl in Dallas. James Carpenter Design Associates designed a ribbon-like mesh façade with detailing assistance from Cambridge Architectural. Completed in December 2013, Cambridge worked with design build firm Heery International.
The 92,100-seat stadium, home to the annual University of Texas vs. University of Oklahoma Red River Rivalry, is part of an international stadium construction boom occurring around the world.
Ranging from World Cup and Summer Games projects in Brazil to professional, club and college venues on six continents, more than 105 new stadiums are being built with dozens of existing structures like the Cotton Bowl being renovated or expanded, according to WorldStadiums.com, an international compendium of stadiums. They are joined by a countless number of new indoor arenas, field houses and training facilities that are underway.
"From cladding the Yankee Stadium parking garage to the integration of a new public art installation to honor the pageantry and prestige of the Cotton Bowl, Cambridge is working with a growing number of designers and engineers to fabricate and install mesh into sports-related projects," says Tom Ross, Chief Operating Officer of Cambridge Architectural. "In addition to creating stunning design features, woven mesh addresses a variety of functional objectives, including daylighting and solar shading, fall protection, headlight attenuation, ventilation and acoustics."
Cotton Bowl
The City of Dallas' Park Recreation Department, in conjunction with the Landmark Commission and Office of Cultural Affairs Public Art program, issued an RFP in 2012 for a public art installation in conjunction with the stadium's renovation. The public art competition sought to redesign the end zone facades and draw attention to the historic complex at the Texas State Fair Park. Bond funds set aside for public art financed the project.
New York City's James Carpenter Design Associates, Inc. (JCDA) won the competition with a design entitled "Light Veil." It included two flexible mesh patterns from Cambridge Architectural on the facades.
"Our design intent was to create an enclosure but to allow for views into and out of the stadium while allowing form to take shape," said Katharine McClellan, Senior Designer at JCDA. "It was a large area to cover and economical material was needed that would also be able to achieve the desired aesthetics, especially with respect to reaction with sunlight."
JCDA imagined the use of woven metal fabric.
"We decided to do a series of ribbons that would come inward from the top of the structure, then cinch and continue to flow downward to create an elegant form," said McClellan. "Ribbons of metal mesh would allow us to maintain the curves of the stadium itself."
Cambridge engineering professionals worked closely with Heery International and supplied it with working drawings for the huge mesh panel installation as well as structural attachment recommendations and load details.
The final Cotton Bowl exterior renovation specification incorporated Mid-Balance and Pellican mesh panels that were mounted in-tension with Cambridge's Eclipse attachment system.
An interview with McCllelan on the Cotton Bowl project is available on the Cambridge website.
Prime Design Firm: James Carpenter Design Associates Inc., New York City
Design Build Firm: Heery International, Atlanta
General Contractor: Balfour Beatty Construction, Dallas
Installer: NOW Specialties, Inc., Houston
Owner: City of Dallas/Office of Cultural Affairs Public Art Program/Dallas Park and Recreation Department
Completion: December 2013
TopGolf
Panels of Cambridge Scale flexible mesh accent the building exterior at TopGolf's original Houston location, one of the largest of its 17 golf entertainment facilities in the U.S. and England. The complex features 102 driving range hitting bays on three levels with a sprawling layout of bars, eateries and meeting rooms covering 65,000 square feet.
At night, the front of the facility is awash with color, highlighted with the bright blue TopGolf logo, and the textured surface of the mesh itself reflects brilliantly the multi-color LED lighting beamed up against it.
"Cambridge was willing to help us create the exact design we wanted," said Nicole Poole, Project Designer at Aria Group Architects, Inc. "The mesh serves a dual function. At night it creates the backdrop for a sophisticated light show, and during the day it protects an interior decorative stair from full sun exposure."
Project Team: Aria Group Architects, Inc.; Arco/Murray (general contractor)
United States Air Force Academy Holaday Athletic Center
The $15.5 million indoor training facility and 92,000-square-foot field allows for year-round practice time for all 27 Air Force varsity teams. Framed in gleaming diamond-shaped panels, stainless steel mesh from Cambridge Architectural boasts an aesthetic appeal complimenting the angular lines of the USAFA chapel brilliantly set against the Rocky Mountain backdrop. The Cambridge Thatch mesh allows daylighting while shading the sun on the north, south and west facades of the building.
"A key role in the development of the indoor training facility was the 100 percent natural light captured through Cambridge's translucent panels," says W. Kenneth Wiseman of Cannon Design. "The two-layer blue and white panel system was key to creating a visual brand and uniquely Air Force sport training environment."
Project Team: Cannon Design; W&W / AFCO Steel; GE Johnson Construction Company, and Briton Kitching
Yankee Stadium Parking Garage
Distinct and memorable metal fabric panels from Cambridge Architectural clad three sides of the exterior of the 190-space 164th Street Garage at Yankee Stadium in the Bronx. The garage façade stands together with the Gate 2 entrance and Yankees lobby and blends modern metal fabric with the stadium's limestone stonework making it appear to be part of the structure itself.
The metal fabric's inherently refined beauty delivers an eye-catching aesthetic to the parking garage, but is further highlighted by its visual interplay with light.
"The finished product was a sleek, beautiful, modern mesh that catches the sun during the day and reflects colored light at night," said Michael Hanrahan, Senior Associate of Clarke Caton Hintz, architect for the project. "We're very pleased with how it turned out."
Cambridge's architectural mesh adequately covers the parking structure's exterior while at the same time allowing enough airflow to negate the need for additional building systems such as a sprinkler system – which ultimately saved the project team money. The installation was accomplished with mesh in Cambridge's Braid pattern, which features large-scaled, flexible open weaves that shade and screen structures including facades, parking garages and pavilions.
Project team: Clarke Caton Hintz, Trenton, NJ (architects); Prismatic, Fairfield, NJ & Hunter Roberts Construction Group, New York, NY (Joint General Contractors); Capco Steel Corporation, Providence, RI (installer)