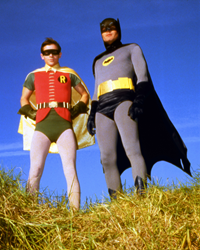 In addition to the Batman guests, DCC is planning a number of panels with a Batman focus in honor of the Dark Knight's first appearance in Detective Comics number 27 in May 1939.
Denver, CO (PRWEB) March 05, 2014
Denver Comic Con and Literary Conference (DCC), a program of Comic Book Classroom (CBC) designed to help promote literacy through pop culture, today announced a Batman 75th Anniversary lineup for the June convention that includes Adam West, Burt Ward and Julie Newmar from the iconic 1960's ABC television series "Batman" and Kevin Conroy, the voice of Batman in Batman: The Animated Series.
In addition to the Batman guests, DCC is planning a number of panels with a Batman focus in honor of the Dark Knight's first appearance in Detective Comics number 27 in May 1939. West, Ward and Newmar will gather for a Batman '66 Reunion panel; in addition to a celebration of his two decades portraying Warner Bros. animated Batman, Conroy will take part in our many voice actors panels; and more than a dozen Batman comics artists and writers will participate in a variety of panels focusing on their careers in the Caped Crusader's comics.
On the 1960's series, West was cast in the role of Batman and Bruce Wayne, Ward was the Boy Wonder, Robin, and Newmar was the villainess Catwoman.
Since his role as Batman, West has nearly 50 film and television appearances including "The Detectives," "The Last Precinct" and, most recently, voicing the character Mayor Adam West on the animated series "Family Guy." He's also published an autobiography, "Back to the Batcave."
In addition to various acting credits since his role as Robin, Ward developed a number of charities, including Early Bird Learning, an early education program that taught social values, good health and safety rules and critical thinking skills, as well as Great Dane Rescue that finds homes for the breed.
Newmar is best known as Catwoman, but has had a successful stage and screen career beyond that role. She won a Tony Award for "The Marriage-Go-Round" and acclaim for her work in "Li'l Abner" and "Silk Stockings." She's appeared in memorable television episodes of "Route 66" and "The Twilight Zone," and starred in movies such as "Seven Brides for Seven Brothers." She's also an entrepreneur; in 1977 she invented "Nudemar" pantyhose.
Conroy is known as the voice of Batman. DC's "Batman: The Animated Series" originally ran from 1992 to 1995, and was recently ranked by TV Guide as the "Seventh Greatest TV Cartoon of All Time." Conroy is best known for his role as Batman in that series, as well as his reprisal of the Dark Knight in "The New Batman Adventures," "Batman Beyond," "Justice League" and "Justice League Unlimited" as well as a number of animated Batman movies.
These guests join previously announced Batman comic book creators Neal Adams, Christopher Jones, Yanick Paquette and Peter Tomasi. More Batman guests are expected to be announced in the coming weeks.
For more information about Comic Book Classroom, its diversity mission or Denver Comic Con and ticket information, visit http://www.ComicBookClassroom.org or http://www.DenverComicCon.com.
About Denver Comic Con
Entering its third year, the Denver Comic Con (DCC) is Denver's premiere pop-culture fan experience, covering the worlds of comic books, film, and related media. It is also an extension of and an awareness builder for its parent organization, Comic Book Classroom. For the latest news and information, visit http://www.denvercomiccon.com.
About Comic Book Classroom
Comic Book Classroom (CBC) is a charitable organization that educates through alternative approaches to literacy, learning, and character development. CBC creates programs for underserved students, schools and communities via comic books, graphic novels, and related media. CBC is the organizer and producer for the DCC. http://www.comicbookclassroom.org.
Media Contact:
Jason Jansky, DStreet
jjansky(at)dstreetpr(dot)com
(303) 748-3300