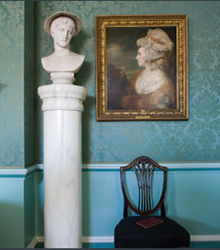 (PRWEB UK) 6 March 2014
Celebrating Georgian life- 2014 celebrates 300 years since the George's came to the throne.
In celebration of the George's, Country Life is creating a Georgian Special number which will cover 'Life in Georgian times' from the reign of George I to George IV and will include everything from architecture, the arts, garden, science and literature.
Country Life offers the perfect environment to showcase your properties, and this issue will feature dedicated editorial all about the Georgian period and in particular Britain's architectural heritage that produced some of our most beautiful buildings.
Key Facts:

Circulation: 38,725 - fourth consecutive circulation increase YOY
Readership: 207,000 Global: 250,000
89% of our readers buy COUNTRY LIFE specifically for the property section
Serious buyers: 1 in 3 readers are looking to buy a property in the next 12 months
Country Life carries more property pages than any other national magazine or newspaper
On sale 26th March 2014, Booking deadline 12th March 2014
For further information or to advertise please speak to a member of the property team on 020 3148 4206.