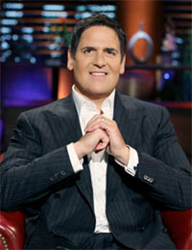 Mark is one of the most dynamic and motivating entrepreneurial speakers of our time, says President of AthletePromotions, Ryan Totka
Nashville, TN (PRWEB) March 06, 2014
Dallas Mavericks owner, Mark Cuban has been booked as the keynote speaker at Inc Magazine's GrowCo event on May 21st in Nashville, Tennessee. Grow Your Company Conference (GrowCo) is a three-day event for entrepreneurs and business leaders who want to achieve sizable growth within their organization. The conference brings together a dynamic program including headliners straight out of the pages of Inc., business experts, and best-selling authors who share actionable information and proven strategies on all facets of growing a company.
The headline keynote session will be a one-on-one interview with Cuban, co-founder of Broadcast.com, MicroSolutions, and HDNet, owner of the Dallas Mavericks, Landmark Theaters, Magnolia Pictures and one of the main "shark" investors of ABC's "Shark Tank."
Cuban will teach a class in entrepreneurial audacity, allowing attendees to learn from the man who lives a full-court life how to boldly embrace their vision, build and lead a winning team, and make strategic decisions in crunch-time. Guests will find out why competition may be the best thing for their business and what it really takes to be the most valuable player within their industries.
With 50 educational sessions, 72 hours of content, and mega-successful speakers, GrowCo will provide entrepreneurs with the education, resources, and connections they need to boost their business growth for years to come.
This year's lineup features industry movers & shakers, seasoned entrepreneurs, the best and brightest business talent and thought-leaders. Besides Mark, other speakers participating include John Schnattner, Jason Fried, Bert Jacobs, Amy Jo Martin and others. Some notable past speakers included Bill Clinton, Daymond John, Sir Richard Branson and John Mackey.
Mark will also grace the cover of Inc Magazines May edition, along with a featured story on his latest business ventures and past success. For more information and to purchase tickets to the event, visit Growco.Inc.com.
Over the past five years, AthletePromotions has assisted in booking Mark Cuban for appearances, speaking engagements and VIP Meet & Greets. If your company is interested in a keynote speaker like Mark Cuban, contact AthletePromotions at 888.246.7141.