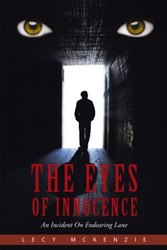 Open your eyes or you might miss the signs!
Gravette, Arkansas (PRWEB) March 07, 2014
The Eyes of Innocence is here. Lecy's Ghostly Books is proud to announce the release of a new novel by Lecy McKenzie, the author. The Eyes of Innocence – An Incident On Endearing Lane will answer the question if the eyes are the portals of the soul, find out what happens when they are seeing for more than one soul. Terrified and terrorized Nicole Rogers is about to find that ignoring the visions and dreams that are haunting her from the past could not and should not be something she can do. The tranquil life was only an illusion in the eyes of the people who lived on Endearing Lane. A nightmare was approaching which no one saw coming, or maybe someone did? This novel promises to keep you guessing until the bone chilling end, but you will need to open your eyes or you might just miss the signs.
In 2013, Lecy's Ghostly Books revamped, revised and re-horrified all six of the previous novels leading the way to the 2014 release of The Eyes Of Innocence. From a book of Ghost Stories, some based on actual events, to SideTrack, a maze of twist and turns that proved perfection sometimes cannot be found, to Terror In Shadows, a frightening encounter that proved that sometimes the one thing you have been looking for all your life might be the one thing that frightens you the most, to Sons Of Darkness a hero with a bond to a demon that could spell the end of man, to Soul Survivor in which survival depends on looking deep into ones souls, and A Ghostly Cry in which a search for justice knows no bounds and sometimes can come from beyond the grave, Lecy's Ghostly Books led the way to the eye-opening, The Eyes Of Innocence. All seven novels are now available for purchase or download at online book retailers or ordering at any book store.
Be sure to follow the author at http://www.lecysghostlybooks.com, on Facebook Lecy's Ghostly Books, and now on Twitter too @lecysbooks, as The Eyes will be leading the way for another new novel which is in production. If you like the first novel A Ghostly Cry A Mothers Search for Justice From Beyond the Grave, you are going to love A Ghostly Cry Too, Justice Found Kayla's Way. The little girl, Kayla, is all grown up possessing her families' gift, and, with Rags still by her side, she will find that justice can be just as chilling the second time around. A release date for A Ghostly Cry Too will be coming soon.
2014 at Lecy's Ghostly Books promises to be another year in which we invite you to: Feel The Chills! Enjoy Thrills!
Lecy McKenzie can be reached at 479-866-7230 or via email at lecysghostlybooks(at)gmail(dot)com.