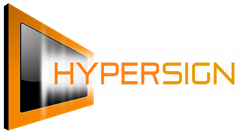 "This opens up a new chapter of an easier, cheaper Hypersign." Mike Whitman, Vice-President
Spartanburg, Greenville (PRWEB) March 10, 2014
Hypersign's mulit-award winning digital signage software is now forward compatible with Samsung's innovative SSP display. Everything Hypersign 2.0 can do on a signage player, it can do on the SSP without one. Even the revolutionary Hypersign Alert, the ground-breaking security application designed with education in mind, is compatible with Samsung's cutting-edge display.
Hypersign even co-exhibited alongside Samsung during the Digital Signage Expo in Las Vegas. Hypersign flaunted it's feathers in the SSP booth itself, demonstrating it's full digital signage and alert capabilities while running fully on the SSP display.
Mike Whitman, Vice President of Hypersign, says, "The possibilites with working with Samsung's new display is practically endless. This opens up a new chapter of an easier, cheaper Hypersign."
Samsung has a story of success sprawling over 70 years. Leaders in imaginative products and solutions, Samsung has solidified it's spot in the world's greatest companies.
DSE, Digital Signage Expo, is the world's largest digital signage expo. It took place in the Sands Expo in Las Vegas, Nevada, this past February 11-13th.
Hypersign Software is an award winning software product development company focusing on building products that improves the lives of people. The Hypersign product is known for its incredibly intuitive interface making it the perfect digital signage solution for education (K12 and higher Ed) and healthcare.