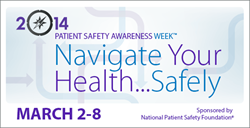 Preventable deaths are a growing problem in hospitals, and unfortunately the statistics seem to be getting worse rather than better.
(PRWEB) March 05, 2014
Patient Safety Awareness Week is an annual event, and this year it runs from March 2nd through March 8th, 2014. The purpose of Patient Safety Awareness Week is to educate and raise awareness of important safety issues faced by hospital patients. The campaign is led by the National Patient Safety Foundation, with many health care organizations throughout the world participating and helping educate and spread public awareness.
According to recent statistics, the third leading cause of death in the United States results from hospital medical errors. Even more shocking is the fact that no one really knew how bad the numbers were. According to the Journal of Patient Safety, figures may be as high as 400,000 per year. These latest statistics are far greater than those previously reported in the 1999 Institute of Medicine report. This report, "To Err is Human: Building a Safer Health System," estimated as many as 98,000 people die every year as a result of hospital errors. Disappointingly, information in that report is compiled from reviews of medical records from 1984 and does not include any account studies that were available for review since 2008.
This new study shows a total of 210,000-400,000 patients die in hospitals every year as the result of preventable adverse events. What's shocking is that there are only two causes ahead of medical errors: heart disease and cancer (according to statistics provided by the Centers for Disease Control and Prevention). These latest findings are the result of researched John T. James, Ph.D., an overseer of the advocacy group Patient Safety America. He founded the organization after his 19-year-old son died in 2002 because of negligent care in the hospital.
If one were to read the statistics, it appears that every time researchers report estimates of deaths from medical errors, the numbers are higher. The inaccurate figures in 1999 estimated a total of 98,000 deaths every year attributed to hospital errors. While that figure was heavily disputed, it is often-used in the media as factual information. Even more alarming are the statistics on Medicare patients. 180,000 medicare patients die every year as a result of medical errors according to 2010 figures reported by the Office of Inspector General for the Department of Health and Human Services.
Is there any way to know which of the figures is accurate? Unfortunately, there is no way to know for sure because no one has ever taken an actual count of the numbers of patients who suffer preventable harm in hospitals. In spite of the potential inaccuracies, providing estimates is important because it still helps inform the public of the problem that exists within the public health sector, despite the popular notion that most medical malpractice lawsuits are baseless or frivolous.