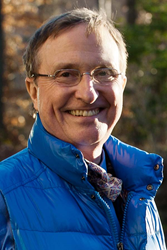 Tom Lovejoy truly deserves this award," says Dr. S.H. Sohmer, BRIT's president and director. "Tom's work in the field of conservation is a remarkable study of how one person can make a difference through the creative application of knowledge."
Fort Worth, TX (PRWEB) March 05, 2014
The Botanical Research Institute of Texas (BRIT) will present its International Award of Excellence in Conservation to Dr. Thomas E. Lovejoy for his life-long work in biodiversity protection. The award will be given on Friday, March 28, 2014, during a luncheon at The Omni Hotel in Fort Worth, Texas.
His accomplishments include helping to bring attention to tropical deforestation through his groundbreaking work on forest fragmentation in the Amazon. In 1980, he coined the term "biological diversity" and made the first projection of global extinction rates in the Global 2000 Report to then President Jimmy Carter. Dr. Lovejoy also originated the concept of debt-for-nature swaps and was the founder of the public television series "Nature". He has served both as the Chief Biodiversity Advisor and Lead Specialist for the Environment for the Latin American and Caribbean region at the World Bank. He has also served as the Assistant Secretary for Environmental and External Affairs for the Smithsonian Institution, and as Executive Vice President of World Wildlife Fund-US.
Spanning the political spectrum, Dr. Lovejoy has served on advisory councils in the Reagan, George H.W. Bush, and Clinton administrations. In 2009, he was appointed Conservation Fellow by the National Geographic Society. From 2008 to 2013, he chaired the Scientific and Technical Panel for the Global Environment Facility, which provides funding related to the international environmental conventions. He received his B.S. and Ph.D. (Biology) from Yale University.
Currently, Dr. Lovejoy is the elected University Professor in the Department of Environmental Science and Policy at George Mason University and also serves as Senior Fellow at the United Nations Foundation.
"Tom Lovejoy truly deserves this award," says Dr. S.H. Sohmer, BRIT's president and director. "Tom's work in the field of conservation is a remarkable study of how one person can make a difference through the creative application of knowledge. He has been engaged for decades in helping conserve the Amazon rainforest; and his other programs, like his innovative debt-for-nature swap concept and his conservation biology initiatives, are helping save Earth's precious biodiversity."
Created in 1995, the International Award of Excellence in Conservation is presented to honor individuals and organizations that exemplify the ideals expressed in BRIT's mission. Recent honorees include: the originator of U.S. Green Building Council's LEED sustainability standards, Rob Watson; CNN founder, entrepreneur, and environmentalist, Ted Turner; Brazilian rancher and conservationist John Cain Carter; biologist Edward O. Wilson, Ph.D.; botanist and author Peter H. Raven, Ph.D.; renowned chimpanzee researcher Jane Goodall; and wildflower advocate Mrs. Lyndon Baines (Lady Bird) Johnson.
Dr. Lovejoy is the twentieth recipient of the award.
About the Botanical Research Institute of Texas
Founded in 1987, the Botanical Research Institute of Texas (BRIT®) based in Fort Worth, Texas is an international, scientific research and learning center focused on conservation, knowledge sharing and studying the diversity of plant life. BRIT conducts extensive global research, including major projects in Texas, Europe, Peru, and the Pacific Islands. In the last 10 years, BRIT scientists have located and described scores of species previously unknown to science. BRIT's herbarium is among the largest in the United States and is the largest U.S. herbarium not part of a university, botanical garden, or broader natural history museum. In the spring of 2011, BRIT moved into its new, US Green Building Council LEED (Leadership in Energy and Environmental Design) Platinum-certified headquarters located in the Fort Worth Cultural District. For more information, visit http://www.brit.org.