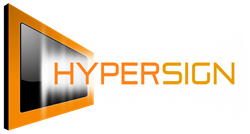 We look forward to collaborating with Pearson.
(PRWEB) March 10, 2014
Hypersign's award-winning digital signage software is partnering with Pearson's Powerschool to give education a mind-blowing new experience.
Hypersign will soon be integrated into PowerSchool's Environment. This will allow PowerSchool users to manage Hypersign within powerschool itself.
Gordon Bell, Director of National/Global Sales, says, "We at Hypersign are very excited about our new partnership with Pearson. Pearson Power School is widely known and well respected in the K12 Education arena. We look forward to collaborating with Pearson to incorporate our Hypersign Metrixx and Kidgopher platforms."
Pearson's PowerSchool is the largest web-based student information system. It offers an easy-to-use collaborative environment for both parents and educators. PowerSchool has been implemented all across the United States as well as 65 countries.
Hypersign Software is an award-winning software product development company focusing on building products that improves the lives of people. The Hypersign product is known for its incredibly intuitive interface making it the perfect digital signage solution for education (K12 and higher Ed) and healthcare.