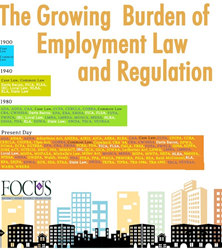 Tucson, AZ (PRWEB) March 06, 2014
Focus HR is a Professional Employer Organization (PEO) located in Tucson, AZ. As a PEO, they help businesses lower their operating costs and focus on their core competencies by providing business solutions in the areas of workers' compensation, payroll, benefits administration, and HR management.
Part of Focus HR's value to businesses is their commitment to staying updated on current workplace laws and regulations. The employment-related legal landscape has grown dramatically over the last century. This growth shows no signs of stopping.
Many people might be inclined to think that the majority of legislation over the past century came about in the 20s and 60s around major civil rights movements, but that is not the case. In 1980 there were just over 35 employment laws and regulations. Since then, 55 laws have been added.
With the Affordable Care Act in effect and new debates over the minimum wage taking
center stage on the political agenda, there are sure to be a number of necessary workplace changes in the upcoming year. Focus HR outlines some of these in their most recent blog post, but also encourages business owners to reach out to them for more information. By partnering with a PEO organization like Focus HR, businesses can save time and money avoiding non-compliance issues that may otherwise be overlooked.
About Focus HR
Focus HR, Arizona's Human Resource Organization, to helping small business owners focus on growing their business. We look out for our clients best interests, minimize risks, and protect their most vital resource – the employees. We provide cost-effective solutions in HR management, payroll, retirement planning, workers' compensation and employee benefits so clients can focus on increasing the bottom line.
About Nuanced Media
Nuanced Media is a digital marketing and graphic design firm. The company specializes in strategic, multilayer marketing campaigns and efficiently crafted, user-friendly websites. Based in Tucson, the company has a variety of clients throughout Arizona, California, and Texas. For more information, please view Nuanced Media.