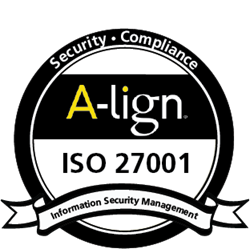 Being accredited by the ANAB demonstrates the quality and conformity of the ISO 27001 certifications we issue
Tampa, FL (PRWEB) March 05, 2014
Following their recent recommendation for ISO 27001 accreditation in January, A-lign is now an ANSI-ASQ National Accreditation Board ("ANAB") Accredited ISO 27001 Certification Body and can begin to issue ANAB Accredited ISO 27001 Certifications.
"Being accredited by the ANAB demonstrates the quality and conformity of the ISO 27001 certifications we issue," said Gene Geiger, A-lign's Director of Security and Compliance Services. "We are excited to offer this valuable service to the marketplace."
About ANAB: The ANAB assesses and accredits certification bodies (CBs) that demonstrate competence to audit and certify organizations conforming to management systems standards. Accreditation by a recognized and respected body such as ANAB ensures the impartiality and competence of the CB and fosters confidence and acceptance of the CB's certifications by end users in the public and private sectors.
About A-lign*: A-lign is a full service security and compliance solutions firm with extensive experience in providing: SOC 1: SSAE 16 Examinations, ISO 27001 Certifications, PCI DSS Assessment Services, , SOC 2: AT 101 Services, FedRAMP Security Assessments SOC 3: WebTrust/SysTrust Services, FISMA Security Assessments, HIPAA and HITECH Services, Penetration Testing and Vulnerability Assessments. A-lign is a licensed CPA firm, QSAC, accredited ISO 27001 certification body and accredited FedRAMP 3PAO.
*A-lign consists of (1) Price and Associates CPAs, LLC d/b/a A-lign CPAs, and (2) A-lign Security and Compliance Services, LLC. The two companies are separate and independent legal entities that work together to service the business needs of their clients. A-lign Security and Compliance Services, LLC is not a licensed CPA firm. A-lign CPAs is not an accredited FedRAMP 3PAO, Qualified Security Assessor Company or accredited ISO 27001 Certification Body.