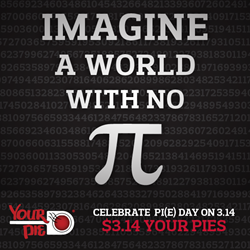 "At Your Pie, we're partial to circles and don't buy into Huey Lewis's claim that it's 'hip to be square'," said Drew French, Founder of Your Pie.
Athens, GA (PRWEB) March 05, 2014
Math never tasted so good!
Your Pie, the originator of the down-the-line pizza category, will hold the brand's 5th annual celebration of Pi(e) Day on March 14th.
The holiday to celebrate pi (or π), the mathematical symbol that gives pizza its shape, has become a Your Pie tradition.
Pi is the ratio of a circle's circumference to its diameter, which equates to roughly 3.14, thus the celebration on 3/14 where Your Pie will be offering their signature customizable pi(e)s for just $3.14.
"At Your Pie, we're partial to circles and don't buy into Huey Lewis's claim that it's 'hip to be square'," said Drew French, Founder of Your Pie. "While pi is an irrational number, I promise that we are of sound mind when offering this deal. But we are crazy about pizza."
What would the world be like without π? Driving to work on square wheels would be troublesome. Getting hit with a Frisbee would hurt a lot more. The "Olympic frames" wouldn't quite have the same ring to it…or literally any ring for that matter.
Most devastating though would be a world without Your Pie's delicious hand-tossed, oven-fired pizza.
"Just like we were the first to combine the freedom of customizable toppings with a fast casual pizza format, we were the first to offer this mathematically beautiful deal to our customers," added French.
A $3.14 Your Pie consists of a pizza with a sauce, cheese, and any of Your Pie's fresh veggies. Gluten-free dough, extra cheese, and premium ingredients are extra. The promotion is for dine-in only. Call in orders and online order will not be taken on Pi(e) Day. Please ask your local store for details on maximum orders per person.
π is a mathematical constant, but this deal will only be around for one day. For more on the one-day celebration, and to find your nearest Your Pie location, log on to http://www.yourpie.com/pieday.
Your Pie aims to reach 100 locations in the U.S. by the end of 2015.
ABOUT YOUR PIE
Your Pie is the world's originator of the quick-serve, brick-oven, customized personal pizza category. A culinary entrepreneur since his teenage years, Your Pie founder Drew French combined his passion for innovative restaurant concepts with brick oven technology to create the highest quality pizza available at incredible speed. Drawing from family recipes from the island of Ischia, Your Pie uses hand-tossed dough, only fresh ingredients, homemade pizza sauces and salad dressings, and offers vegan, vegetarian and gluten-free pizzas, as well as traditional pizzas. Customers who dine at Your Pie have come to expect the best tasting pizza served with speed without sacrificing flavor. Your Pie is a state of mind and the brand stands by its motto to "express your inner pizza", investing in local communities and encouraging diners to let their culinary creativity run wild. For more information about Your Pie or franchising opportunities, please visit http://www.yourpie.com.
###