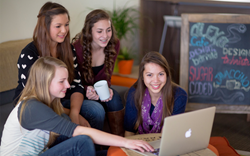 It's about fostering leadership and tech skills in a fresh setting that's unlike anything else.
(PRWEB) March 05, 2014
Something fresh is brewing at iD Tech, just in time for Women's History Month. The national leader in STEM education, iD Tech, has unveiled Alexa Café, a new all-girls summer camp emphasizing programming, leadership, entrepreneurship, brand identity, design, and philanthropy. STEM (Science, Technology, Engineering, and Math) subjects are creatively woven into the curriculum. Girls ages 10-14 attending the weeklong day program held at Palo Alto High School near Stanford will have the opportunity to kick-start their own 1-for-1 social movement in a chic, collaborative environment.
Alexa Café reflects the values of the overarching iD Tech brand, moving beyond traditional educational models to bring about real and lasting change in the lives of girls. Ideas come to life around café tables and atop beanbags. When it comes to coding, stale "make a calculator" themes are exchanged for real-world, philanthropic projects in the vein of TOMS® One for One® campaign, and iD Tech's own One Camper, One Tree initiative—the company plants one tree for each enrolled student, via the Arbor Day Foundation.
With new courses and distinctive curriculum, Alexa Café aims to attract girls with fun, hip courses dubbed Sugar Coded, Javaccino, Design Barista, and Design Technista.
The launch of Alexa Café comes at a critical moment in the history of tech education. Code.org reports that while over 50% of the U.S. population is female, women make up fewer than 14% of Computer Science undergrads. Similarly, women comprise nearly half of the U.S. labor force, but hold only 4.6% of top leadership positions (according to catalyst.org). Many girls are missing out on future STEM careers and big opportunities to innovate and create change.
"With Alexa Café, we're attacking the same problem a different way by repackaging tech education as stylish and philanthropic," explains Alexa Ingram-Cauchi, Co-Founder and President of iD Tech. "To be clear, Alexa Café is not about special treatment for girls. It's about fostering leadership and tech skills in a fresh setting that's unlike anything else."
As one of two female founders of iD Tech, Ingram-Cauchi knows what it means to lead. She and her mother started the company together in 1999 (a rarity even in progressive Silicon Valley), in a studio above their garage. Today, the iD Tech staff is over 60% female, and each summer, additional courses are added to engage more girls in STEM.
In the spirit of education and gender equity, other high-profile women in tech, such as Facebook COO Sheryl Sandberg and YouTube CEO Susan Wojcicki, have weighed in on Alexa Café.
"Learning to code helps kids feel empowered to make an impact on the world," explains Wojcicki. "Programs specifically designed to teach girls to code are a vital part of getting more girls interested in tech."
This year, iD Tech has made another 1-for-1 pledge in order to reach more girls: for each girl who attends Alexa Café this summer, the company will send another girl for free to iD Tech Camps, its flagship, co-ed tech program for ages 7-17. With an innovative blend of style, purpose, technology, and philanthropy, Alexa Café is a social movement and a summer camp for girls all rolled into one. Learn more and register at AlexaCafe.com.
ABOUT iD TECH
iD Tech engages students ages 7-18 in STEM education with co-ed summer programs held at over 80 prestigious universities nationwide, including Stanford, UC Berkeley, Princeton, Yale, and others. iD Tech Camps provides weeklong day and overnight sessions for ages 7-17. There are also 2-week, pre-college, immersive teen academies for ages 13-18: iD Programming Academy, iD Game Design & Development Academy, and iD Film Academy. iD Tech 365 provides all ages a year-round online learning platform with tutorials, forums, and contests. The new Alexa Café, held at Palo Alto High School, offers weeklong day programs for girls ages 10-14, emphasizing leadership, tech, and philanthropy. Visit iDTech.com or call 1-888-709-TECH (8324).