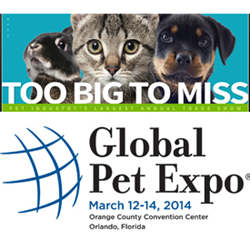 [Furry Travelers] is the one-stop-shop for all of a pet owner's needs, and all of its products are available for order through its online store...
Orlando, FL (PRWEB) March 06, 2014
Furry Travelers, Inc., a leading provider of pet supplies designed to help owners facilitate traveling with their pets, will be exhibiting its award-winning doggy To Go Bowl at the Global Pet Expo on March 12th through the 14th. The expo is the pet industry's largest annual trade show, bringing the top pet supply retailers and distributors together with over 5,000 buyers and other qualified professionals in the field. Furry Travelers, Inc. is thrilled to be a part of this exciting event, hosted in Orlando, Florida by the American Pet Products Association (APPA) and Pet Industry Distributors Association (PIDA).
More than 800 exhibitors are signed up to feature their newest product launches and greatest innovations at the Global Pet Expo this year. At the 2013 show, over 3,000 new products were presented to approximately 5,327 pet product buyers who came from all around the world to experience the event. In addition to the exposition of pet products and solutions, the three-day event also includes a series of seminars by the Global Pet Expo Academy, featuring pet industry experts as keynote speakers who will deliver valuable insight on overcoming the challenges and implementing new ideas and tactics for professionals in pet-related businesses.
This will be the 6th year that Furry Travelers, Inc. has hosted a booth at the world-famous exposition. The company became a recognized name in the industry with its doggy To Go Bowl after winning several product awards throughout 2009 and 2010, including the "Best Pet Products Award" by FIDO Magazine in 2010 and Dog Fancy Magazine's "Editors' Choice Award" in 2009. The To Go Bowl is a water and food bowl created for dog owners to bring on road trips with their pets, designed to fit into any standard-sized cup holder to provide a convenient and mess-free means for pets to eat and drink from. Aside from the To Go Bowl, Furry Travelers carries everything imaginable to use for pet travel and fun, including apparel, car seats, bike carriers, strollers, harnesses, and much more.
With over 400 products available for sale, Furry Travelers has the perfect gift for everyone's furry little friend. It is the one-stop-shop for all of a pet owner's needs, and all of its products are available for order through its online store at FurryTravelers.com. For those attending next week's big Global Pet Expo, Furry Traveler's To Go Bowl will be on exhibit at Booth # 3607 throughout all three days of the event.
The show is not open for the general public to attend, but registration is still currently open to independent retailers, distributors, mass-market buyers, and other qualified professionals. There will be several special events preceding and throughout the course of the Expo, including the 10th Annual Allan L. Levey Golf Tournament on Tuesday, March 11th, a networking reception on Wednesday the 12th, and a special Breakfast on Thursday the 13th, during which the Retailer Excellence Awards Ceremony will take place. The actual exhibits will be open for show to attendees from 9am to 6pm on Wednesday and Thursday and from 9am to 5pm on Friday the 14th.
For more information regarding the Global Pet Expo, please visit: GlobalPetExpo.org. To find more information about Furry Travelers, Inc., its To Go Bowl, or any of its other pet travel products, go to: http://www.furrytravelers.com/, or contact Nancy Cribb with any further inquiries.
About Furry Travelers, Inc.:
Founded in 2007, Furry Travelers, Inc. began their business with the invention of the award winning To Go Bowl travel bowl for dogs, invented by president, Nancy Cribb. They quickly began adding pet travel accessories manufactured by other companies to FurryTravelers.com. Their mission is to offer practical, stylish and unique pet travel products to pet owners so more pets can go along - safely and easily.