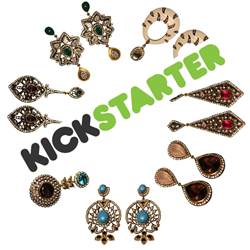 Jewelry is not just an adornment; it is a work of art which represents who you are. Meghna Designs brings you beautiful jewelry crafted by fine artisans.
Chicago, IL (PRWEB) March 11, 2014
Bold, beautiful, and chic is what Meghna Patel of Meghna Designs wants every woman to feel when they wear her Jewelry. The luxury jewelry designer fell in love with the art of design as a young girl in India and after a move to America and years of perfecting her craft she made the bold decision to launch her own line. Her first collection inspired by the beautiful Taj Mahal made its debut in September 2011 and went on to grace the pages of Vogue, Elle, and O magazine. The artisan crafted pieces were also donned by Blake Lively and co-star Kelly Rutherford on the hit TV show Gossip Girl. With the success of the first line Meghna Designs is ready to embark on an even bigger journey with the help of its supporters.
$10,000 is what the designer hopes to raise through Kickstarter to create her first fine jewelry line.
"Creating jewelry has always been a dream of mine and so far the journey has been amazing. Being brought up in India for 15 years and now living in America my designs are a reflection of my cultural influences and western aesthetics. I hope to continue to bring those two experiences to the masses with my first fine jewelry line," says Meghna.
With Kickstarters "all or nothing" funding model, Meghna hopes to raise the funds needed in just 41 days. Backers can look forward to receiving prizes as simple as features on the designers social media accounts, to prizes as extravagant as being able to personally collaborate on a piece with the designer. The count down has begun since the project has gone live on March 7th. Check out Meghna Designs on Kickstarter.com to be a part of the launch of the new collection.
Join in on spreading the word about the project by following its progress on Twitter (https://twitter.com/MeghnaDesigns), Facebook (https://www.facebook.com/MeghnaDesigns), Pinterest (http://www.pinterest.com/meghnadesigns/), and Instagram (http://instagram.com/Meghnadesigns). If you'd like more information on the project email Meghna at info(at)meghnadesigns(dot)com.