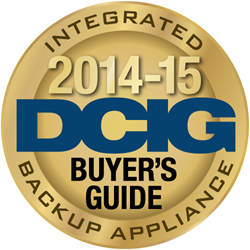 Our research shows that interest is rising and the market is alive with more solutions than ever before.
Austin, Texas (PRWEB) March 06, 2014
For years backup has been broken. While there are numerous solutions available for physical, virtual and cloud deployments to counter that argument, integrated backup appliances provide one of the most appealing ways for users to simplify backup in a single box, 'plug it in, turn it on, and it's good to go' solution.
It's not just the proven success which makes integrated backup appliances appealing. The latest generations of appliances prove IT organizations can expect more features and functions such as deduplication, heightened support for virtualized environments and increased support to address faster response times and quicker resolutions to all their data protection challenges. The growth of integrated backup appliances is allowing organizations to better align where they want to store data.
"There is significant interest in integrated backup appliances, especially those that reside behind the corporate firewall and are key to private cloud deployments," said Jerome Wendt, president and lead analyst, DCIG, LLC. "Our research shows that interest is rising and the market is alive with more solutions than ever before. Those that are at the top meet enterprise requirements as well as are strengthening their offerings with services. The latest Integrated Backup Appliance Buyer's Guide is the only resource available in the market that covers more than 70 solutions. Like all DCIG Buyer's Guides, we know this one will be invaluable to help users find ways to eliminate unnecessary research cycles and find an integrated backup appliance that best meets their unique needs."
For the Integrated Backup Appliance Buyer's Guide, DCIG, LLC evaluated 72 offerings from 14 companies. After an initial survey containing 85 questions was completed, product capabilities were assessed based on data provided by the vendor, prior DCIG research, and information available in the public domain. Products were then evaluated on more than 80 features. After scores were compiled, products were ranked "Best-in-Class," "Recommended," "Excellent," "Good," or "Basic" across functionality and capability relative to the other products included in the Buyer's Guide.
The intent for this Buyer's Guide, as with all DCIG Buyer's Guides, is to provide an "at-a-glance" comparison from which end users can select the most appropriate solution for their existing needs. This Buyer's Guide also provides perspective on how solutions from less well known integrated backup appliance providers compare against established and better known brands.
The DCIG 2014-15 Integrated Backup Appliance Buyer's Guide Top 10 solutions include (in alphabetical order):STORServer EBA2202-CV, EBA1202-CV, EBA3202-TSM, EBA801-CV, EBA2202-TSM, EBA1202-TSM, EBA802-TSM; Unitrends Recovery 943, Recovery 863, Recovery 824.
Only one product of the 72 integrated backup appliances achieved the designation "Best-in-Class." The STORServer EBA2202-CV has impressive scalability going past 1.4PB of disk storage and has additional tape storage as needed. It led or finished second in all four major categories. The STORServer EBA2202-CV scored particularly well in the management and software categories, and tight integration with the CommVault Simpana backup and recovery software played a large part in pushing the integrated backup appliance to the top of the Guide's listing.
The DCIG 2014-15 Integrated Backup Appliance Buyer's Guide achieves the following objectives:

Provides an objective, third party evaluation of integrated backup appliances that weights, scores and ranks their features from an end user's perspective
Scores and ranks features on each integrated backup appliance based on criteria that matter most to end users so they can quickly know which products are the most appropriate for them to use and under what conditions
Provides a standardized data sheet for each of the integrated backup appliances so users may do quick side-by-side comparisons of products
Gives any organization a solid foundation for getting competitive bids from different providers that are based on "apples-to-apples" comparisons
"While the number of solutions available in the market today that is notable," added Wendt, "many providers are starting to roll out recovery guarantees like STORServer. This is a major commitment to make and is extremely important for those users likely to make a purchase. Depending on the appliance, data may be retrieved from multiple places, either a cloud, from the appliance itself or may be that the appliance may perform the recovery in a reasonable amount of time. It will only be a matter of time before all providers will feel the pressure to provide recovery guarantees of some sort, which will ultimately be of benefit to all users."
Disclosure and Methodology
DCIG identified 14 companies that provide integrated backup appliances, regardless of cost. Each integrated backup appliance had to meet the following criteria:
Be available as a physical appliance that includes backup software as a combined bundle under one SKU
May ship as a virtual appliance
Store data on premise on Direct Attach Storage (DAS), NAS or SAN-attached storage
Includes backup software
Have sufficient public information provided to reach meaningful conclusions
Must be generally available by January 1, 2014
No vendors, whether clients or not, were afforded preferential treatment in the Buyer's Guide. All research was based upon information provided directly by vendors, research and analysis by DCIG and other publicly available information.
It is worth noting that each Buyer's Guide is not intended to be a substitute for internal testing. DCIG encourages any organization that is considering the purchase of any solution included in a Buyer's Guide to do its own in-house testing.
Availability
The DCIG 2014-15 Integrated Backup Appliance Buyer's Guide is available immediately and may be downloaded for no charge with registration at the following http://dcigbuyersguides.com/.
Resources:
DCIG Blog: http://www.dcig.com
About DCIG
DCIG is a group of analysts with IT industry expertise who provide informed, insightful, third party analysis and commentary on IT hardware, software and services.
DCIG independently develops and licenses access to DCIG Buyer's Guides. DCIG Buyer's Guides provide actionable intelligence through comprehensive, in-depth analysis of data center infrastructure product features. DCIG also develops sponsored content in the form of blog entries, case studies, product reviews, special reports and executive, standard and full-length white papers.
DCIG's target audiences include C-level executives, IT managers, systems and storage engineers and architects, press/media, magazine and website editors, bloggers, financial and technical analysts, and cloud service providers.