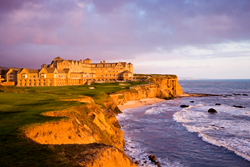 Half Moon Bay, California (PRWEB) March 06, 2014
This year, guests staying at The Ritz-Carlton, Half Moon Bay may volunteer to assist the local community while vacationing in beautiful Northern California. The resort's Give Back Getaway program provides guests with the opportunity to sort, package and distribute food to in-need families in Half Moon Bay through Coastside Hope. The Give Back Getaway program takes place the third Thursday of each month at the Coastside Hope facilities. Sorting and packaging of food is from 1:30 to 3:30 p.m. with distribution following from 3:30 to 5:30 p.m. Guests can choose to participate for either two or four hours.
2014 Dates include:
March 20, 2014
April 17, 2014
May 15, 2014
June 19, 2014
July 17, 2014
August 21, 2014
September 18, 2014
October 16, 2014
November 20, 2014
December 18, 2013
In 2013, Coastside Hope distributed more than 380,000 pounds of food to in-need families in the local community. Coastside Hope is a community-based non-profit organization dedicated to providing emergency food, clothing, shelter, and other safety net services since 1976. Their mission is to help neighbors meet their most basic needs. They accomplish this by providing necessities of food, clothing, housing assistance and support when it's need most and opportunities to help neighbors connect with their established programs and services so that they may have the chance to achieve more. Each year Coastside Hope touches the lives of more than 3,000 people.
# # #
About The Ritz-Carlton, Half Moon Bay
Situated 23 miles southwest of the San Francisco International Airport, The Ritz-Carlton, Half Moon Bay is a 261-room destination spa and golf coastal hotel. As the San Francisco Bay Area's only oceanfront resort, it is perched atop a rugged bluff overlooking 50 miles of pristine California coastline. The timeless oceanfront estate provides guests with a relaxed yet refined experience for romantic getaways, meetings or special events. For more information or reservations call 800-241-3333, the hotel directly at 650-712-7000, a travel professional or visit ritzcarlton.com/HMB. Visit experiencehalfmoonbay.com to learn more about the destination.
About The Ritz-Carlton Hotel Company, L.L.C.
The Ritz-Carlton Hotel Company, L.L.C., of Chevy Chase, Md., currently operates 85 hotels in the Americas, Europe, Asia, the Middle East, Africa, and the Caribbean. More than 30 hotel and residential projects are under development around the globe. The Ritz-Carlton is the only service company to have twice earned the prestigious Malcolm Baldrige National Quality Award, an award that originated in 1987. Its purpose is to promote the awareness of quality excellence, recognize quality achievements of companies and publicize successful quality strategies. The Ritz-Carlton Hotel Company won the award in 1992 and 1999. For more information, or reservations, contact a travel professional, call toll free in the U.S. 1-800-241-3333, or visit the company web site at http://www.ritzcarlton.com. The Ritz-Carlton Hotel Company, L.L.C. is a wholly-owned subsidiary of Marriott International, Inc. (NASDAQ:MAR).