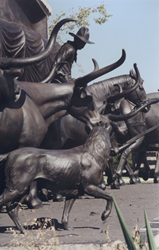 Duncan, OK (PRWEB) March 12, 2014
The Duncan Convention and Visitors Bureau is excited to announce, but not surprised, at the findings reported in Movoto.com's blog "These are the 15 best Places to Live in Oklahoma". Community leaders and the citizens of Duncan have known for years that the Heart of the Chisholm Trail is a gem to work, live and play in.
Movoto is a national online real estate brokerage. Their blog has been recognized for its unique approach to city-based research by major news organizations around the world such as Forbes, CBS News, and The New York Times.
Movoto.com looked at the U.S. Census data and used seven criteria: total amenities, quality of life (cost of living, median home price, median rent, median household income, and student to teacher ratio),total crimes, tax rates (sales tax and income tax), unemployment, commute time and the weather (temperature and air quality) to determine the overall standings of the 43 cities that met a population of 10,000 plus in the Sooner State. From there, they ranked each place from one to 43 in these criteria, with one being the best possible score. Finally, they averaged each ranking for an overall Big Deal Score, with the lowest score being the winner.
Duncan had a good quality of life score, due to one of the lowest costs of living on their entire list—a score of just 75, where the average is 100. Duncan also provided plenty to do, with a total of 1,456 amenities, according to their research. And while residents and visitors alike are out enjoying the museums, historic Main Street Duncan, restaurants, unique local businesses and the community's festivals and events they also feel safe and secure, because Duncan came in as the seventh safest place in their overall list, with a crime rate of just 2,328 crimes per 100,000 people, which was significantly lower than many others reviewed.
For a complete look at their list, visit their website. If you would like more information about Duncan, the Heart of the Chisholm Trail, please contact The Duncan Convention and Visitors Bureau at 1-800-782-7167. We encourage you to come and visit to see for yourself why Duncan is on the list!