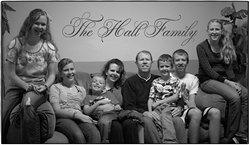 We love the thrill of building a new business and wanted our children to know what it means to work together as a team.
Enterprise, UT (PRWEB) March 11, 2014
Dave and Lisa Hall are entrepreneurs to the core. They are the parents of six children they were determined to involve in an exciting business adventure. Finger Candy Nail Art officially launched online at http://www.fingercandynailart.com and the company is off and running. For the Halls, it's been a long time coming.
"We live in rural Utah, so it's not always easy to find real-life educational opportunities here for children," Lisa said. "We love the thrill of building a new business and wanted our children to know what it means to work together as a team."
The family launched a company providing professional nail products to certified technicians. In their first months of business they realized the demand for nail art products continually increased. "People who were not professional techs wanted to buy our nail art products," Dave said. That's when the couple decided it was time to give women everywhere what they wanted – nail art and more nail art. Finger Candy Nail Art was born.
Dave, a successful businessman, had all the experience required to start up a new company. As a certified public accountant and as a frequent investor, he had already participated in the building and re-building of many companies. Dave owns a CPA and business consulting firm with offices in Las Vegas and Henderson, Nev. and St. George and Enterprise, Utah.
"I wanted to create a business that would support the standards and principles we believe in such as family and community," he said. "I had watched Lisa work so hard for so many years at home and I wanted to help create a foundation for people who wanted the flexibility of a career that would allow them to take care of other personal and family obligations while earning a rewarding income."
Lisa worked in the nail cosmetic industry before becoming a professional industry product distributor. She had assumed an operations and warehouse management position for an existing gel nail distributor. For about 18 months, Lisa examined processes, work flow, products and customer interests.
"All of these amazing ideas kept coming to me. I was dying to develop the ultimate customer experience, but my hands were tied to some extent," she said. That's when she decided to strike out on her own.
"As we began exploring ideas and methods of distribution for our public products, the home party planning concept seemed perfectly natural," Lisa said.
The Halls researched the concept and could not find a nail art company engaged in distributing products like theirs through home parties. "It made perfect sense. This was our opportunity to help people and have a significant positive impact on families everywhere," Dave said.
"Women love to gather socially and they love to try new things. Finger Candy Nail Art gives them the opportunity to do both in the comfort of their own homes," Lisa said.
The Gang's All Here
In addition to providing full-time jobs for several local residents in a sparse rural setting, the Halls engage the services of their children. Their oldest son, Todd, helps out with computer tasks and graphic arts while Alisha, Brooke, Erica, Cody and Joshua help package and ship products.
-END-
Finger Candy Nail Art is a Limited Liability Corporation based in Enterprise, Utah. The company launched home party sales in November and officially launched online March 3. Finger Candy Nail Art offers a do-it-yourself solution for busy professionals, moms and young ladies who love the simple sweetness of fast, quality nail art.