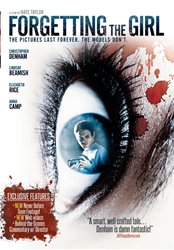 "[A] slow narrative burn…well-drawn characters and tight casting!" –Village Voice
New York, NY (PRWEB) March 06, 2014
RAM Releasing (http://www.RAMReleasing.com), the genre shingle under New York-based distributor Film Movement (http://www.filmmovement.com) today announces the home video release of FORGETTING THE GIRL, the tightly-woven psychological thriller starring ARGO's Christopher Denham as a photographer whose search for love becomes increasingly turbulent, will be available to own on DVD and Bluray on April 1.
Marking filmmaker Nate Taylor's directorial debut, FORGETTING THE GIRL follows charming portrait photographer Kevin (Christopher Denham), who can't seem to find the right girl to help him forget his traumatic past. Failure after failure, his world soon spirals into madness, and the women he photographs may not be safe after all. Co-starring Anna Camp (Pitch Perfect, True Blood) and Lindsay Beamish (Shortbus), the film has been heralded as "a nuanced, image-driven film…" by the L.A. Times and "a smart, well-crafted tale…" by All Things Horror. The newly-launched RAM Releasing's first home video release sets the stage for great things to come from the noir label, and also marks the first time either RAM Releasing or sister label Film Movement have released a title on Bluray.
Exclusive bonus content available on both DVD and Bluray:

Four never-before-seen deleted scenes!
Behind-the-scenes commentary track with director Nate Taylor!
Five exclusive web videos, featuring footage not in the film!
Theatrical trailer in 5.1 surround sound!
Available on DVD and Bluray on April 1 at Amazon.com and other major retailers, FORGETTING THE GIRL enjoyed a powerhouse VOD release in Fall 2013. Also available on digital platforms including iTunes and Amazon Instant, Variety says it's "the kind of small-budget gem that…impresses with its polished professionalism. A psycho-sexual thriller [that's] a pleasant surprise!
###
About RAM RELEASING:
An ancillary label at FILM MOVEMENT, the North American distributor of award-winning independent films, RAM Releasing is the shot in the arm movies have been waiting for. With an eye for the suspenseful, the action-packed and the noir of the best dark-genre films, RAM Releasing delivers movie experiences in theaters, on DVD and Bluray, and all digital platforms. Established in 2013 and launching with a full slate in 2014, RAM Releasing's first films include current and upcoming hits like Forgetting the Girl, APP and Hide & Seek. To learn more, visit RAMReleasing.com, or follow on Twitter (@RAM_Releasing) and Facebook (/RAMReleasing).