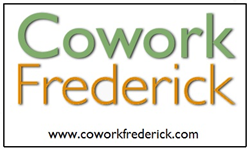 Frederick, Maryland (PRWEB) March 08, 2014
The event will begin with an educational how-to presentation from 3 to 4 p.m., and thirty-minute private consultations with expert advisors from 4 to 6 p.m. To protect the fiduciary duty of the expert advisors, each volunteers for the one-one-one consultations. Each month will feature new topics and advisors for fresh opportunities to learn (translation: no need to stop with just one event).
Tickets to the Start-Up / Stay-Up Day events are $49, with discounts available to Cowork Frederick members. For registration and additional information, please visit http://coworkfrederick.com or contact Cowork Frederick at info(at)coworkfrederick(dot)com.
Start-up / Stay-up Days are scheduled to coincide with the Frederick Startup Community's "Startup Talks", a free and open-to-the-public monthly series that also takes place at Cowork Frederick, to be held March 19, 2014 from 7-9 p.m. A free networking happy hour from 6 to 7 pm, also free of charge, connects the two events.
Cowork Frederick is a collaborative working environment, a coworking space, for freelancers, solo/entrepreneurs, and telecommuters. Like any office, Cowork Frederick provides the essentials you need to work, but it's more than a place with office equipment and Internet access. Cowork Frederick is a community of people working side-by-side, connecting, sharing, learning, growing their businesses, and having fun.
###
CONTACT INFORMATION:
Glen / Julia Ferguson
Founder / Keeper
301-732-5165
info(at)coworkfrederick(dot)com