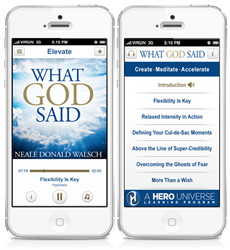 Meditate Like a Zen Monk To What God Said with Mind Cures Patented Meditation App.-Evan Gappelberg CEO/Founder Mind Cures, LLC
(PRWEB) March 06, 2014
Mind Cures, LLC, an innovative digital publishing and mobile development company, has released What God Said App fusing the key principles from the bestselling book What God Said by Neale Donald Walsch with meditation programming. "This groundbreaking app adds immeasurable value to the core concepts from the book by enhancing the content with customized meditations from Mind Cures' Hero Universe accelerated learning system, called HeroLearning™" says Evan Gappelberg CEO of Mind Cures.
Link to the app in iTunes: What God Said App
Walsch in What God Said encourages readers to cast aside religious and cultural trappings. To experience life as fallible—and human—beings, open minded, open-hearted, and all-embracing, and to build on, broaden, and enrich our Ancient Story. And so Walsch has included solid suggestions on how to apply each of the 25 Core Messages in daily life, the author says that should humanity begin carrying these messages forward, starting today, they can literally change the world.
"With the What God Said app, we've broken new ground", says Mind Cures CEO Evan Gappelberg "by creating a short and concise accelerated learning program which focuses on the books principles only and uses scientifically-proven methods of condensed knowledge, guided meditation, audio listening and repetition to improve learning. Offering this book in an on-the-go app format makes it easier than ever for people to fit learning the author's timeless principles into their busy schedules."
What God Said app uses a patented text-to-speech meditation technology developed by Mind Cures to deliver all 39 chapters from Neale Donald Walsch's book in a condensed format that focuses on the core principles for a precise learning experience. "Anyone can use What God Said app to quickly and easily create powerful yet relaxing, custom and personalized meditations based on the most important principles from the book," explains Wilson Christopher, Mind Cures Co-Founder. "You don't have to have any experience with meditation to use the app. It's designed with Hero Universe's patented meditation technology, so anyone can enjoy the benefits of meditation to accelerate their learning, immediately apply the principles introduced in the book to their daily lives, and achieve better results."
The new audio app empowers users to achieve greater purpose, and more meaning with a life-changing system that combines the set of principles from Neale Donald Walsch's powerful book with the cutting-edge meditations, accelerated learning, and mobile accessibility of Mind Cures' Hero Universe app.
Mind Cures licenses books from the most recognized self-help authorities in the world including, Jack Canfield, Stephen Covey, Neale Donald Walsch, Napoleon Hill and offers them as audio apps, which combine the key principles in each book with the HeroLearning personalized meditation technology for an accelerated learning experience. All Mind Cures applications from the Hero Universe family of products are available through the iTunes app store.