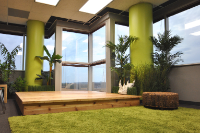 (PRWEB) March 06, 2014
Austin-based internet marketing firm, SaleAMP, completed its move to a new 14,000 square foot office in north central Austin enabling the company to ramp the hiring of additional marketing managers, developers, designers and operations personnel. Recent client wins, joint ventures and a strong sales pipeline are fueling the company's growth.
"This is a significant milestone for the company," said Paul Kirchoff, SaleAMP's Chief Executive Officer. "Over the last few years we have been able to create an amazing business model fueled by some of the coolest people on earth. And now we're delivering Austin's coolest place to work that will power the next stage in our growth."
SaleAMP's new full-floor office sports many interesting features including panoramic views of Austin from every window, a separate modern coffee bar and kitchen, several couch lounges, a green tranquility room adorned with plants, an indoor deck, and Buddha fountain, and a 28 ft x 14 ft video screen that creates a memorable first and last impression as people enter and leave the fourth floor.
"The most powerful thing a company can have is a strong culture," Kirchoff said. "And SaleAMP's culture is our number one strength. This new office will allow the next generation of AMPions to create, grow, and prosper. We are committed to leading the world in company culture and this new office is a step in that direction."
Anyone interested in seeking employment for open positions can go to http://www.saleamp.com/about-us/careers and apply online.
About SaleAMP
SaleAMP is a powerful pay-for-performance internet marketing and software company specializing in PPC, Social Advertising, SEO, Mobile, Social Media, Conversion Marketing and more. The company serves a range of business models from e-commerce to lead generation to info marketing to B2B to non-profit companies. Visit SaleAMP online at http://www.saleamp.com.