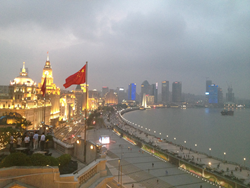 The news that no one is speaking about however, is the opportunity that this will create for westerners literate in Chinese
New York, NY (PRWEB) March 07, 2014
LinkedIn recently announced that the company has undertaken an initiative that targets significant expansion in mainland China through the launch of their simplified Chinese-language site. LinkedIn will now provide the 618 million internet users in China access to the professional networking site in their native written language. China's strict censorship of online content, which will require Linkedin to share user information with the Chinese government, has become highly controversial in the US. LinkedIn will also be required to censor certain user content, but this is a price it will have to pay for an opportunity that could allow the company to increase their current user base by nearly 50%. For the past decade, Chinese users looking to take advantage of the LinkedIn service were forced to use the English-language site, inherently minimizing LinkedIn's rate of adoption. All of this is good news for Chinese "netizens," it's also great for the company's stock price, it went up over 5% on the announcement. However, according to BRIC Language & Consulting's Founder Ryan McMunn the news that no one is speaking about however, is the opportunity that this will create for westerners literate in Chinese. Especially the opportunity for the over 1 million foreign residents of China, Hong Kong, and Taiwan.
Dubbed "Lǐng yīng", the simplified Chinese version of LinkedIn is not just being celebrated by China's internet users, but also by Wall Street. Following the announcement, LinkedIn (LNKD) shares received more than a 5% boost during Tuesday's trading session. But this decision represents so much more than simply dollars and cents, it represents a "Great Leap" forward in the attempt to create a more interconnected world. When you consider that over one billion people speak Mandarin worldwide (which is a good proxy for the number of people who are literate in simplified Chinese, which is the written language) it becomes clear that this new website being made available has far-reaching benefits.
According to CEO Jeff Weiner, "The new Simplified Chinese website will broaden our reach to the country's more than 140 million professionals who currently represent roughly one in five of the world's knowledge workers." But these benefits are certainly not limited to Chinese citizens; Westerners fluent in the Chinese language will now have the opportunity to connect with companies of all sizes operating in China. Conversely, U.S. companies will now be able to more effectively tap the immense pool of talent located in China. Perhaps this will allow Chinese citizens to achieve better wages at foreign companies. And let's not forget, Chinese users will now better be able to connect with each other!
The issue with having online censorship is that it casts a wide net in terms of what is deemed unacceptable, and in doing so, limits the free flow of ideas, which in turn stunts economic growth. In his blog post, LinkedIn CEO Jeff Weiner wrote, "LinkedIn strongly supports freedom of expression and fundamentally disagrees with government censorship. At the same time, we also believe that LinkedIn's absence in China would deny Chinese professionals a means to connect with others on our global platform, thereby limiting the ability of individual Chinese citizens to pursue and realize the economic opportunities, dreams and rights most important to them."
LinkedIn, a company almost all of us associate with professional networking, has been in the process of further developing its business model to include a media component (think of all the news articles that pop up on your homepage). In speaking with a current employee, she told me "We want to be your go-to source for current news. If your boss were to call you into a last-minute meeting, our goal is to have you log into LinkedIn to get caught up on what's going on in the world." And according to Alexa, LinkedIn currently ranks eleventh in terms of website traffic worldwide, well ahead of any other dedicated "news source" (excluding Yahoo, if you consider that a news source), so this notion of being the world's go-to source for news is not so far-fetched.
This dissemination of this news, in addition to the user-generated content on each member's profile, is what has the Chinese government on edge. With the potential for 140 million new LinkedIn users in China, there's a lot of policing that needs to take place in an effort to satisfy the Chinese government. In his blog post, Mr. Weiner noted, "the company will implement government restrictions, but only to meet minimum requirements." It is also worth noting that LinkedIn has achieved access that the likes of Facebook, Twitter and Foursquare have not, each of whose sites are blocked in China.
Only time will tell how effective this new endeavor will be in strengthening not only the job searching process in China but also the flow of ideas. At the very least, providing hundreds of millions of people access to job opportunities both inside and outside their countries' borders is one way LinkedIn is helping shrink the world in which we live.